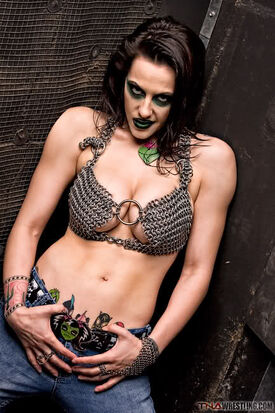 Daffney is a professional wrestler and manager best known for her time as a TNA Knockout. She currently serves as the protagonistic leader of Daffney's All-Star Squad in Shine Wrestling, though she is perhaps best known for her villainous role in TNA.
Daffney debuted with a babyface gimmick of a Sarah Palin-esque caricature simply known as The Governor, and she aligned with Roxxi and Taylor Wilde to humiliate The Beautiful People. After the BPs beat her down and cut some of her hair, Daffney went back to her classic "Goth girl" gimmick from WCW. The gimmick would quickly see Daffney become a villainess and attack Taylor Wilde, blaming Taylor for what happened to her at the hands of the BP. Daffney was later defeated by Taylor in the first and only Knockouts' Monster's Ball Match. She would also align with Raven and Dr. Stevie against Abyss for several months. By 2010, Daffney received her only opportunity at the TNA Knockouts Championship, but she was defeated by Tara. She was out of TNA by 2011 when her contract expired.
After her heel turn in 2009, Daffney brought her villainous persona from TNA to SHIMMER, where she had competed for several years. After years as a babyface for the promotion, Daffney turned into a villainess while teaming with Rachel Summerlyn against Rain and Jetta, known as the International Home Wrecking Crew. Daffney's heel turn began when she would mockingly lead the crowd in cheers for Rachel when she was close to tagging Daffney in, doing so twice. After fighting off her opponents, Rachel reached for Daffney, but at that moment, the evil Daffney left Rachel to fend for herself, completing Daffney's villainous turn.
Now donning her "zombie hot" look from TNA, Daffney explained her actions to Rachel, stating that she tried to teach her how to wrestle and she failed, right before she attacked her to start their grudge match. Daffney was DQ'ed after refusing to break on a five count, and after the match, she laughed evilly at Rachel, while claiming that she'll "always be a rookie." Daffney defeated Rachel again in a No DQ match, but she would be defeated by Rachel in an I Quit Match to end their rivalry.
Daffney's psychotic character (according to Daffney herself) was inspired by Juliette Lewis' character in Natural Born Killers. She is prone to violence and fits of rage, and she often lets out a loud shriek.