D'Vorah is a Kytinn, a species of colonial insects living inside humanoid bodies. Hailing from the Arnyek islands, D'Vorah's realm was conquered by Shao Kahn and she chose to serve the emperor to avoid becoming a slave. Rising in political power, D'Vorah now serves Kotal Kahn as his second in command and closest advisor, assisting him in the civil war against Mileena.D'Vorah's physical appearance draws on several insect motifs. Her skin takes the appearance of a yellow chitinous hide with four wing/pincers jutting out from her back. The back of her head is adorned with black markings and her lips are naturally black. On the heels of her feet are what looks like high heel wedges. Her eyes are compound, possessing the same fractured appearance as a fly's eyes. All of her teeth are sharp and pointed, exhibiting possible carnivorous eating habits. D'Vorah wears a black top and hood, spiked gauntlets on her arms armored ringlets on her forearms, and armored shin guards. A single scarab-shaped piece of jewelry with a green centered gem rests around
her neck. She is the teritary antagonist in Mortal Kombat X.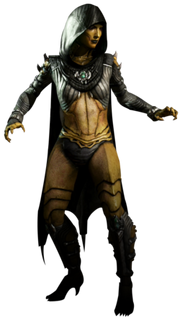 Ad blocker interference detected!
Wikia is a free-to-use site that makes money from advertising. We have a modified experience for viewers using ad blockers

Wikia is not accessible if you've made further modifications. Remove the custom ad blocker rule(s) and the page will load as expected.