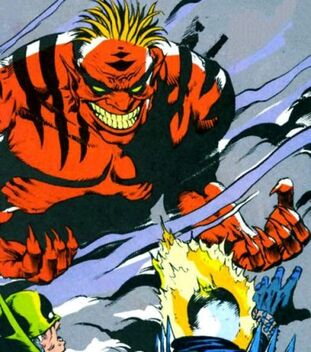 D'Kay
was a demonic supervillain from the
Marvel
comics and an enemy of both Iron Fist and Ghost Rider.
History
D'Kay was a powerful demon that lived in a realm known only as the pit. He attempted to destroy the humans of Earth by exploiting unsuspecting human-beings through their sins and granting them super-powers to carry out his wishes. He duped these humans into believing that they were super-heroes and that the only righteous and moral beings were them. They took on the name of the Legion of Vengeance, and their names were Bacillus, Mind's Eye, Strontium-90 and Vesper. D'Kay's demonic schemes were foiled by Ghost Rider and Iron Fist, although, D'Kay promised that he would return.
Ad blocker interference detected!
Wikia is a free-to-use site that makes money from advertising. We have a modified experience for viewers using ad blockers

Wikia is not accessible if you've made further modifications. Remove the custom ad blocker rule(s) and the page will load as expected.