| | | |
| --- | --- | --- |
| " | Be quiet, my son, and know that my last words were reserved for you. Fare well, and may the gods smile upon you, as they once did upon me. | " |
| | ~ Czulkang Lah's last words | |
| | | |
| --- | --- | --- |
| " | As soon as you dispassionately place yourselves among those whom you are willing to send to certain death, you take another step toward strategic wisdom. | " |
| | ~ Czulkang Lah's philosophy | |
| | | |
| --- | --- | --- |
| " | I will not offer advice. You are Czulkang Lah. You will crush them despite their state of readiness. | " |
| | ~ Tsavong Lah to his father | |
Czulkang Lah is the main antagonist of the Enemy Lines duology. He is introduced as the father of Warmaster Tsavong Lah, and a former warmaster in his own right.
History
As depicted in the series, Czulkang Lah, an experienced warrior responsible for developing many of the tactics the Yuuzhan Vong would use in their invasion of the New Republic's galaxy, was considered a hero among the Yuuzhan Vong. However, after Czulkang Lah opposed his species' invasion of the known galaxy, his relationship with his son Tsavong Lah became strained. Eventually, Tsavong Lah usurped his father's position. Afterward, Czulkang Lah became a well-known teacher of the Yuuzhan Vong, though he desired nothing more than to lead troops into battle once more.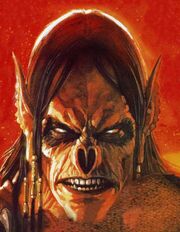 Enemy Lines
| | | |
| --- | --- | --- |
| " | No matter what our disagreements, you remain a hero to the Yuuzhan Vong, and to your son. | " |
| | ~ Tsavong Lah | |
Czulkang Lah makes his first appearance in Aaron Allston's Enemy Lines I: Rebel Dream, now an elderly Yuuzhan Vong—a rarity among his species, as most Yuuzhan Vong die before reaching old age. Czulkang Lah suffered severe arthritis and could move about only with the help of enhanced vonduun crab armor. In the first of two novels, Tsavong Lah approaches his father, asking his take command of Domain Hul's resources to lead an assault against Borleias following the Battle of Coruscant. Czulkang Lah, who bore his son no ill will, agreed. Throughout the duology, Czulkang Lah was developed as the counterpart for retired New Republic General Wedge Antilles, who proved to be a far more cunning warrior than even Czulkang Lah himself. This weakness caused him to lose much of his fleet before realizing that the Super Star Destroyer Lusankya, once Antilles's flagship after the death of Ysanne Isard, was going to ram his worldship. Czulkang Lah ordered the complete evacuation of the ship, but remained aboard as it exploded. As he died, he reserved his last words for his son, Tsavong Lah.