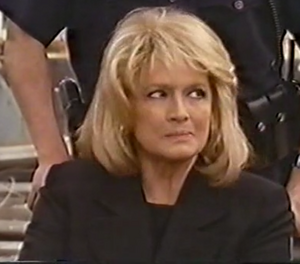 Cynthia Pike is the main villainess from the fifth season premiere Diagnosis Murder, "Murder Blues."
She was portrayed by Angie Dickinson.
Cynthia Pike is the captain of the LAPD, but as revealed later on, she was having an affair with Councilman Matthew Watson, who later killed his wife. The pair conspired in a plot to frame Detective Stang for the murder, setting Stang up as a corrupt cop. When that plan began to fall through, however, the evil Cynthia killed Stang and made the murder look like a suicide, even leaving a suicide note.
While giving a press conference regarding Stang's role in the death of Watson's wife, Cynthia suddenly collapsed and was revealed to have a tetanus infection in her left arm. Oddly, it was the infection that proved that Cynthia killed Stang, as he was inside his cell, and she cut herself on the rusty iron bars. At episode's end, a wheelchair-ridden Cynthia fingered Watson in his wife's murder. Regarding a motive, the plan was to result in Watson becoming mayor and Cynthia replacing Masters as the new chief of police. Cynthia was arrested for her role in the conspiracy.