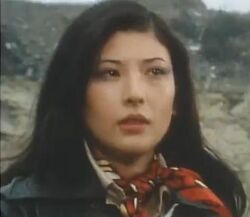 Cyborg Q
(36) was a spy from
Black Cross
Iron Man Mask General Temujin
's forces. Resembling a normal woman named Aya-chan. KiRanger found her jumping off of a cliff and nearly drown in the ocean. He saved her life, upon bringing her to shore. She was in fact a cyborg working for the Black Cross. Her only use of weapon was a dagger and is able to grow sharp metal fingernails. She ended up being destroyed by
Warship Mask
.
Notes
She was the only Black Cross Minion to not have "mask" in her name.
She is the very first villain in Sentai (monster, general or otherwise) who has a change of heart and becomes an ally of the hero team, even in death
Ad blocker interference detected!
Wikia is a free-to-use site that makes money from advertising. We have a modified experience for viewers using ad blockers

Wikia is not accessible if you've made further modifications. Remove the custom ad blocker rule(s) and the page will load as expected.