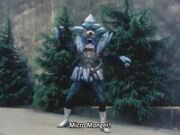 Crystal Monger
- (Small crystal Monger/Micro Monger, Disappearing and Reappearing, Staff, ) First showed up attack the guards at the Space Center. Sun Vulcan came and stopped them (Amazon Killer, Zero Girls) from taking control of the installation. Then retreated to repair wounds. Took control of the restaurant with a few Machineman. Went up a drain spout to attack through the water system of Sun Vulcan Base. Attack the Sun Vulcan Base via of the swimming pool and took Misa but Sun Vulcan had bright lights that stop him from taking Misa a hostage. The second fight with Sun Vulcan, Crystal Monger won the first round with Machineman. The second after Sun Vulcan used their sticks broke the invisibility act on the them after that Sun Vulcan won. Grew after Sun Vulcan Ball. Finally defeated by SolarSword with Aurora Plasma Return.
Ad blocker interference detected!
Wikia is a free-to-use site that makes money from advertising. We have a modified experience for viewers using ad blockers

Wikia is not accessible if you've made further modifications. Remove the custom ad blocker rule(s) and the page will load as expected.