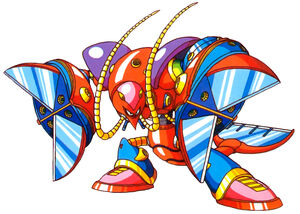 Crush Crawfish (Scissors Shrimper in the Japanese version) is one of the eight Maverick bosses from Mega Man X3. Crawfish was a violent Maverick who couldn't distinguish between ally and enemy due to a flaw on his AI. When Dr. Doppler started his revolt, Crawfish was stationed at the harbor area of Doppler Town, attacking anyone who approached.
Crawfish can be a very difficult boss without his weakness, the Triad Thunder. Most of his fighting patterns involve him trying to grab the player to crush him on his claws, which causes massive damage. If the player climbs the walls he will launch his claws and shoot wires to make the player fall to the floor.
Ad blocker interference detected!
Wikia is a free-to-use site that makes money from advertising. We have a modified experience for viewers using ad blockers

Wikia is not accessible if you've made further modifications. Remove the custom ad blocker rule(s) and the page will load as expected.