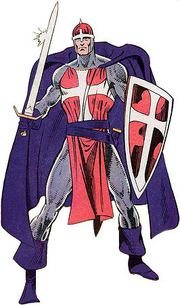 Crusader
AKA
Arthur Blackwood
was born in Decatur, Illinois. He was a seminary student in Chicago who believed that the church should become more active in fighting paganism and godlessness in modern society. Dismissed from the seminary for getting into an altercation with a superior, Blackwood visited his family crypt to meditate on his life. There he had a religious vision of all of his ancestors who devoted their lives to serving God. In this vision he met the spirit of one of his ancestors who served in the Crusades. This spirit seemingly bequeathed to him the combined power of all his ancestors and dubbed him knight. When Blackwood awoke from this vision, he discovered a sword, shield, and knight's raiment had inexplicably materialized nearby. Blackwood decided to take up the sword and use his newfound power to destroy all pagans and infidels. As his first target, he chose the thunder god Thor, whose claims of godhood seemed blasphemous.
Ad blocker interference detected!
Wikia is a free-to-use site that makes money from advertising. We have a modified experience for viewers using ad blockers

Wikia is not accessible if you've made further modifications. Remove the custom ad blocker rule(s) and the page will load as expected.