Crown Prince Leopold is the main villain of the 2006 Romance mystery, The Illusionist.
He was played by Rufus Sewell.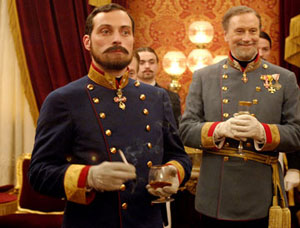 Uhl tells the tale of Eisenheim's life to Leopold and Eisenheim finds out that Sophie is going to tie the knots with Leopold, whos rumored of being a woman beater when he was younger and even killed a woman. Eisenheim performs a show for him and even humiliates Leopold during the show, which Leopold bans Eisenheim from performing in Vienna again. Eisenheim asks Sophie to go with him but is scared they will be executed. Sophie informs Eisenheim too that Leopold is planning to conquer the government against his old dad, Emperor Franz Joseph I.
Sophie attempts to end her relationship with Leopold, who hunts Sophie down into the stables and murders her with a sword. Her corpse is found in the Vienna Woods, the next morning and Eisenheim hurt by his loss gets a theatre and performs eerie shows of the summoning of deceased spirits. Leopold discreetly attends a show, which Eisenheim summons the spirit of Sophie and says somebody in the theatre is her killer you know. Leopold orders Uhl to arrest Eisenheim for him being a charlatan, but Eisenheim reveals that his show was merely an illusion.
Leopold is later confronted by Uhl, who discovered proof that Leopold killed Sophie. The evidence is a gem from Leopold's sword and Sophie's locket. It's later revealed that Sophie never was dead, but ran away with Eisenheim to start a new life. Uhl also tells Leopold he has already informed the emperor and the general staff of Leopold's conspiracy to seize the throne.
Leopold then points his revolver at Uhl and plans to murder him. But then the officers of the imperial guard of the Austro-Hungarian Army come to Uhl and Leopold. Leopold kills himself by shooting himself in his head. 
Ad blocker interference detected!
Wikia is a free-to-use site that makes money from advertising. We have a modified experience for viewers using ad blockers

Wikia is not accessible if you've made further modifications. Remove the custom ad blocker rule(s) and the page will load as expected.