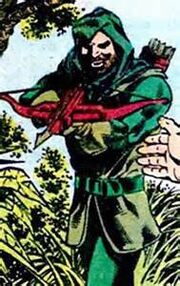 A British assassin that employs a crossbow. Crossbow first appeared when he was hired to kill Micah Synne, but his attempt failed due to Daredevil's interference. He next appeared when Micah, the person he tried to kill earlier, hired him to kill Daredevil. This time he managed to shoot Daredevil in the arm which allowed Micah to realize he and Matt Murdock were one and the same. He was later hired as Kingpin's assassin, but Daredevil found out and arrested him once again.
Ad blocker interference detected!
Wikia is a free-to-use site that makes money from advertising. We have a modified experience for viewers using ad blockers

Wikia is not accessible if you've made further modifications. Remove the custom ad blocker rule(s) and the page will load as expected.