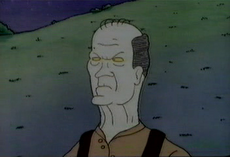 The Crazy Old Farmer is a mysterious and creepy farmer (and janitor) who appears in episodes "Cow Tipping", "Bungholio: Lord of the Harvest", "Beavis and Butt-head Are Dead" and "Great Cornholio", from the animated TV series Beavis and Butt-head. In his appearances he kills Beavis with a chainsaw. Not much is known about him. Except his job as that title job except as somehow janitor in two epiosodes.
Ad blocker interference detected!
Wikia is a free-to-use site that makes money from advertising. We have a modified experience for viewers using ad blockers

Wikia is not accessible if you've made further modifications. Remove the custom ad blocker rule(s) and the page will load as expected.