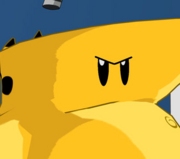 Craig is the main antagonist in Dangeresque 3: The Criminal Projective, played by The Cheat, who has a voiceover of PBTC Homestar. He created the robot duplicate of Dangeresque Too, Uzi Bazooka, so that Dangeresque would think that his partner had joined with the enemy. At the end, Dangeresque kicks him through an airlock (really a dryer). During extended play, a deleted scene is accessible, in which Dangeresque tries to get him off Dangeresque Too. When Craig refuses, Dangeresque says, "Hey, you're not so bad after all! You wanna go get a milkshake or somethin'?", and Craig replies with the same answer.
Note
At first we thought Craig was the secondary antagonist and a henchmen for Uzi Bazooka but he built Uzi Bazooka making him the main antagonist.
Ad blocker interference detected!
Wikia is a free-to-use site that makes money from advertising. We have a modified experience for viewers using ad blockers

Wikia is not accessible if you've made further modifications. Remove the custom ad blocker rule(s) and the page will load as expected.