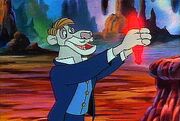 Covington is the main antagonist of the Talespin episode "Molly Coddled." He is a jaguar con artist who wears a formal suit (including shoes) and a blond toupée. He pretends to fall in love with Rebecca Cunningham (to Molly's dismay) in order to get some kind of doll for a secret (the writer of this article could be wrong).
Covington was voiced by Jim Cummings in the episode.
Ad blocker interference detected!
Wikia is a free-to-use site that makes money from advertising. We have a modified experience for viewers using ad blockers

Wikia is not accessible if you've made further modifications. Remove the custom ad blocker rule(s) and the page will load as expected.