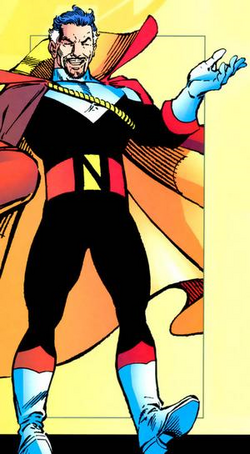 Count Nefaria is a major villain of the Marvel universe and (in particular) The Avengers. He was once an ambitious Don in the Maggia, Marvel's version of the Mafia, however over the course of his criminal career he would gain superhuman powers himself and became a far more dangerous individual.
Following his transformation Count Nefaria became one of the Avenger's most powerful opponents but not one of their most recurring.
As well as the Avengers Count Nefaria has faced off against Iron Man, the X-Men and other Marvel heroes.
History
Italian nobleman Count Luchino Nefaria used his fortune both to finance technological research and to make himself a power in the Maggia crime syndicate. Nefaria's wife Renata died giving birth to their daughter Giulietta. Growing up in America as Whitney Frost, Giulietta would eventually become the Maggia leader called Madame Masque. In retaliation for the Avengers' opposition to the Maggia, Nefaria framed them for treason.
The Avengers were cleared, but Nefaria was publicly exposed as a criminal. Among his grandest schemes, Nefaria captured Washington DC and held it for ransom, and later took over the North American Defense Command base at Valhalla Mountain. On both occasions he was thwarted by the X-Men.
Later, Nefaria had Professor Kenneth Sturdy endow him with the powers of the Living Laser, Power Man, and Whirlwind and again battled the Avengers. Soon afterwards, however, Nefaria aged into an ancient invalid, and seemingly died when his body was crushed. However, Nefaria revived as a superhuman powered by ionic energy, and continues to menace the entire world.
Gallery