Count Nefaria
 is a major villain of the
Marvel
universe and, in particular, the Avengers.  He was once an ambitious Don in the Maggia, Marvel's version of the Mafia, however over the course of his criminal career he would gain superhuman powers himself and became a far more dangerous individual.
Following his transformation Count Nefaria became one of the Avenger's most powerful opponents but not one of their most recurring.
As well as the Avengers Count Nefaria has faced off against Iron Man, the X-Men and other Marvel heroes.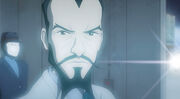 Ad blocker interference detected!
Wikia is a free-to-use site that makes money from advertising. We have a modified experience for viewers using ad blockers

Wikia is not accessible if you've made further modifications. Remove the custom ad blocker rule(s) and the page will load as expected.