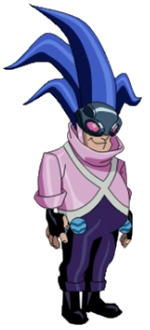 Cosmo Krank is an original character from the series "The Batman". He one worked at Wayne Enterprises until he was fired for not taking the precaution to make sure his toys were safe. The Toymaker is an enemy of the Batman from The Batman.
History
At first, Cosmo Krank was the C.E.O. of a toy company named "Krank Co." that creates incredibly futuristic toys. However, Bruce Wayne notices that Krank Co's toys are very dangerous.
So, he led a campaign that eventually closed down Krank Co. for good. Enraged, Cosmo Krank becomes a villain named "the Toymaker," who uses his toys in his attempt to get revenge on Bruce Wayne.
In other media
The Toymaker is referenced in Batman: Arkham City. In Amusement Mile, you can find his old company factory Krank Co.
Cosmo Krank appears in Gotham who is the son of Griffin Krank an assassin known as The Toymaker who worked at Krank Toys and Models in The Narrows. When Jim Gordon and Lucius Fox visit the toy store following the bomb-rigged attempt on Lee Thompkins' life, Cosmo was asked if anyone else worked here and states that his father was upstars as he goes to get him. After some near encounters with a large nutcracker with a gun and an explosive robot, Gordon and Fox run outside and see Griffin running as Cosmo stops them to keep them harming his father. Cosmo stated that he doesn't know why his father would try an attack on someone and that he had heard his father conversing with someone for a hit. Though Cosmo didn't know who the person was. As Gordon and Fox leave the toy store, they tell the arriving police officers that Griffin's son is still inside.