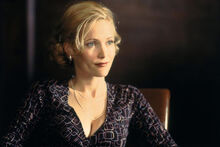 Corrine Maloney is the former main antagonist of Big Daddy. She is Kevin Gerrity's vain fiancee, who has strongly disliked Sonny Koufax, but reforms when she finds out that her would-be husband has adopted Julian. She is played by Leslie Mann, who also played Ursula Stanhope in George of the Jungle.
Ad blocker interference detected!
Wikia is a free-to-use site that makes money from advertising. We have a modified experience for viewers using ad blockers

Wikia is not accessible if you've made further modifications. Remove the custom ad blocker rule(s) and the page will load as expected.