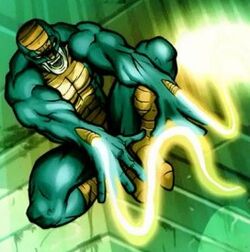 Frank Payne
was a former agent of S.H.I.E.L.D. who went on an undercover mission disguised as a supervillain called
Constrictor
, but suffered a nervous breakdown during the mission and came to actually believe himself to be a criminal supervillain. Using his snake-themed battlesuit and wrist-mounted electrified metal coils, Constrictor became a mercenary, battling several heroes over his career, including the Hulk, Captain America, Iron Fist, Luke Cage, and Spider-Man. He was invited to join the snake-themed
Serpent Society
, but turned it down and instead revealed their plans to the Avengers, which he paid for later when some of the Society's members exacted revenge on him. Constrictor later joined the
Masters of Evil
and the
Frightful Four
for a short time.
Constrictor was recruited into Norman Osborn's Shadow Initiative and became a close friend of fellow mercenary Taskmaster. He also dated Diamondback for a short time, until he found out that she had reformed and was working with Captain America.
Constrictor's battle-suit is equipped with wrist-mounted Adamantium coils that can reach 30 feet in length and can be used as whips or as a constricting and crushing weapon with the force of 115 pounds per square inch. He can also emit an electrical current through them and into his victim.
Ad blocker interference detected!
Wikia is a free-to-use site that makes money from advertising. We have a modified experience for viewers using ad blockers

Wikia is not accessible if you've made further modifications. Remove the custom ad blocker rule(s) and the page will load as expected.