| | | |
| --- | --- | --- |
| " | Ah, the big bad Bat-Guy. I knew you'd "ketchup" to me sooner or later. How I've "relished" this meeting. You, the dynamic Dark Knight, versus me, the conceptual Condiment King! Let's see if you can "cut the mustard". | " |
| | ~ Condiment King's infamous encounter with Batman | |
The
Condiment King
is a minor antagonist towards the superhero Batman, as well as Robin and Batgirl. He was originally created as a joke villain who appeared in
Batman: The Animated Series,
but was later adapted into the comics as well. Although his origins differ in both depictions, he is universally portrayed as a dimwitted criminal who uses condiment-themed weaponry.
History
Batman: The Animated Series
In
Batman the Animated Series,
the Condiment King was a stand up comedian named Buddy Standler, who judged an annual stand-up comedy competition. He and his fellow judges rejected a comedian named Shecky Rimshot, who was really the
Joker
using an alias. A year later, Buddy took up the "Condiment King" alias and used ketchup and mustard sprayers to hold up a popular restaurant. Buddy was quickly defeated by Batman, but was hospitalized in the process. It was later revealed that the Condiment King, along with the other "villains" were brainwashed by the Joker using
Mad Hatter
's mind control technology, which resulted in him and the other two being freed of all criminal charges.
Comic Book History
This Condiment King's real name was Mitchell Mayo, an obvious pun on mayonaise. He was defeated repeatedly by Batgirl, Robin, Black Canary, and Blue Beetle. Like the television version he was very weak and was more or less a comic relief character. He eventually became one of the many loser villains who joined General Immortus' army. He along with several villains got power upgrades. His ketchup and mustard sprayers now shot corrosive acids. He is killed however by his team mate Human Flame by being choked to death with a ketchup bottle.
Other appearances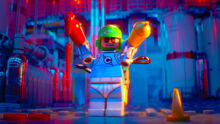 The LEGO Batman Movie
The Condiment King appears as an ally of the Joker in the 2017 LEGO Batman Movie. After Joker reveals that the Condiment King is one of his allies, he assures the pilot he is talking to that Condiment King is real and "might be worth to google".