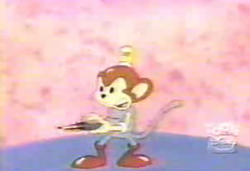 Coconuts
is a monkey-robot created by
Dr. Robotnik
to hunt Sonic in the cartoon series
Adventures of Sonic the Hedgehog
.
He used to be one of Dr. Robotnik's more important and devious Sonic-hunting badniks until Scratch and Grounder were created. This event lead Coconuts to be demoted to janitorial duty in Robotnik's base. Hating this job entirely, Coconuts still makes an effort to capture Sonic to try and win Robotnik's favor, in hopes of being promoted again. Being the oldest and more experienced between himself, Scratch and Grounder, Coconuts is usually less prone to fall for most of Sonic's tricks his "brothers" would blindly step into. Coconuts is based off a badnik of the same name.
In the games
Coconuts is, as stated above, a badnik in Sonic 2 and Sonic 3. He is found on trees and throws coconuts at Sonic as he runs by. He is treated as a less significant minion and has little support to Dr. Robotnik.
Mean Bean Machine
Coconuts appears as the fourth opponent in the puzzle game Dr. Robotnik's Mean Bean Machine. He is ranked as easy and he makes usually stupid moves. He seems to place the beans on the two sides of the screen which no other character does
Ad blocker interference detected!
Wikia is a free-to-use site that makes money from advertising. We have a modified experience for viewers using ad blockers

Wikia is not accessible if you've made further modifications. Remove the custom ad blocker rule(s) and the page will load as expected.