Claus is a villain of the 1981 James Bond movie, For Your Eyes Only.
He was played by Charles Dance, notable for his role as
Tywin Lannister
in
Game of Thrones
.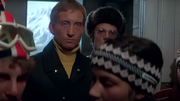 An assassin and henchman of Aris Kristatos, smuggler and main villain. At Cortina, Locque, a dragon, sends Claus and his accomplice to cut Bond off. Following 007, Locque and Claus enter the ski jump and on the ski jump James Bond knocks Claus off his feet. After Locque and he kill Countess Lisl, Claus tries to order Bond into Locque's car but Claus gets harpooned and killed by Colombo's men.
Ad blocker interference detected!
Wikia is a free-to-use site that makes money from advertising. We have a modified experience for viewers using ad blockers

Wikia is not accessible if you've made further modifications. Remove the custom ad blocker rule(s) and the page will load as expected.