'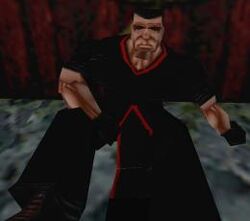 '
Claudio
is a devoted Italian member of the dangerous cult known as
Fiamma Nera
and a villain
Tomb Raider II
.
He along with other Fiamma Nera cult members set up a camp outside the entrance to the Temple of Xian where Lara would later be ambushed by him.
The ambush failed though, Lara repelled him and aimed her pistols at him. Claudio explained about the Dagger of Xian and the leader of his cult, Marco Bartoli. For speaking of all, this he poisoned himself. Lara then explored his laptop and found out about the Italian magician Gianni Bartoli and his history in Venice including the founding of Fiamma Nera themselves.
Gallery
Trivia
Claudio poisons himself in a ritualistic manner in the first cutscene. Later, when Marco performs a ceremony, one of the Fiamma Nera cult members there looked like Claudio.
Ad blocker interference detected!
Wikia is a free-to-use site that makes money from advertising. We have a modified experience for viewers using ad blockers

Wikia is not accessible if you've made further modifications. Remove the custom ad blocker rule(s) and the page will load as expected.