Cinderblock
is a villainous character in the
Teen Titans
TV series. He is a giant animated concrete structure monster that doesn't speak (he only grunts or growls), and often serves
Slade
and the
Brotherhood of Evil
as a minion.
Animated Series
Cinderblock first appeared in the first episode, "Divide And Conquer", where he was going to the prison cell to free the criminals. Even the guards couldn't stop Cinderblock, but the Teen Titans arrived to prevent him from freeing the criminals. But when Robin and Cyborg tried to combine their attacks, their foot got in the way, allowing Cinderblock to escape and complete his goal. Cinderblock then freed Plasmus from prison and brought him to Slade's headquarters. Later, when the Teen Titans were reunited with Cyborg, he showed Robin and the others that he defeated Cinderblock.
Later on, Cinderblock made several appearences in "Apprentice Part 1", "Aftershock Part 1 and 2", and "Haunted". He never appeared at all in the fourth season of the Teen Titans TV series, but appeared in the final season of the series. In "Titans Together", during the entrance to the Brotherhood Of Evil's headquarters, Cinderblock attacked the uncaptured Titans. When he was knocked out, Jericho took control of his body, and he was able to speak. After that he was once again knocked out unconcious. He was later flash-frozen with the other villains.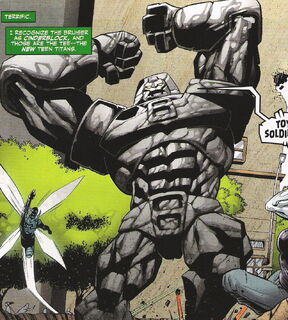 He was also shown in the final episode of Teen Titans "Things Change", but it is unclear as to how he excaped in icy prison.
Teen Titans (Video Game)
Cinderblock appeared as a boss character, and later he (along with Plasmus and Overload) became Ternion. He is also a playable character.
Comics
Cinderblock appeared in the main DC universe where he is shown attacking the Titans in a town and was able to defeat all of them. However due to the comined efforts of Static, Beast Boy, and Wonder Girl his whole body shattered and his head was thrown into the ocean. Whether he survived or not is unclear. Unlike in the show he had the abilities of regeneration and being able to speak in short sentences.