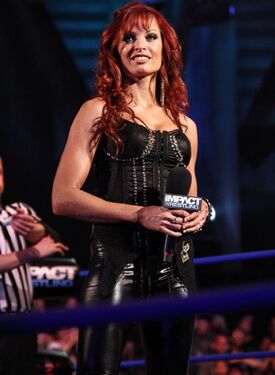 Christy Hemme is a former WWE Diva best known for winning the first-ever Diva Search in 2004. She is also a former TNA Knockout, serving as a wrestler, manager, and a ring announcer until leaving TNA in 2016.
Throughout her year-long stint in WWE, Christy never acted as a heel (villainess). She joined TNA in 2006 as a hostess, but months later in 2007, Christy officially became a villainess when she began feuding with the highly popular Voodoo Kin Mafia tag team. Christy had stated that she wanted to wrestle in TNA, which was met with jeers from not only VKM, but some of the fans as well. Christy's first match in TNA was a Tuxedo Match against a competitor solely known as "The Big Fat Oily Guy." She would win, but she was later humiliated, yet again, by VKM. In the following months, the evil Christy enlisted various tag teams to defeat and/or destroy VKM, but they were all defeated, even when Christy tried to get involved. Lance Hoyt was later brought in to keep Christy at bay, but at Slammiversary, he turned against VKM and became Christy's (kayfabe) boyfriend. After the ruse, Christy laughed evilly as she finally got the best of VKM.
After her feud with VKM ended, Christy became the valet for the Rock 'n Rave Infection, which included Lance Hoyt (later Lance Rock) and Jimmy Rave. They would feud with the Latin American Xchange (Homicide and Hernandez), which included Christy being attacked various times by an unknown assailant. Christy complained to management about being on the receiving end of male-to-female violence, until her attacker was revealed as a woman: Salinas. After the feud, Christy's villainous role came to an end by October 2008.
Christy was most recently in an angle where she portrayed the object of obsession for Samuel Shaw, which would see Mr. Anderson come to Christy's aid and fight Shaw. During this angle, there were rumors that Christy would turn heel and be paired with Shaw, but the swerve wouldn't happen.
In her early years in TNA, Christy was portrayed as a deceitful villainess who mostly used a moral platform (wanting women to wrestle) to further her true evil agenda (destroying VKM). Her alliance with Lance Hoyt also showed that Christy was willing to use her feminine wiles to get what she wants.