Ad blocker interference detected!
Wikia is a free-to-use site that makes money from advertising. We have a modified experience for viewers using ad blockers

Wikia is not accessible if you've made further modifications. Remove the custom ad blocker rule(s) and the page will load as expected.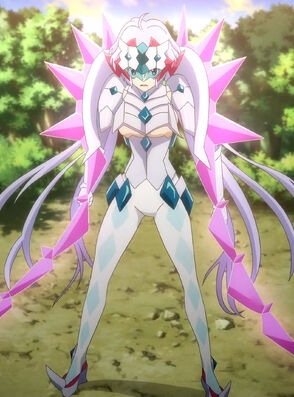 Chris Yukine
is a former villainess from
Senki Zesshou Symphogear
and a mysterious girl who wields the Nehushtan Armor and has the ability to summon and command Noise at will.
History
As a Villain
Chris mocks Tsubasa as she reveals Solomon's Cane. They both yell at Hibiki as she tries to stop the fighting. Chris attacks first and blocks Tsubasa's own attack with the use of the chains. She effortlessly fights and blocks all of Tsubasa's attacks and kicks her back. Using the chain as a whip she tries to attack Tsubasa and summons Noise to keep Hibiki out of her way. Tsubasa continues to attack her as she blocks and throws her back down. She reveals that the plan was to abduct Hibiki the entire time.
As she talks Tsubasa uses her One Thousand Tears to force her to move and allow Tsubasa the space to get away. The two continue to fight as Chris summons more Noise. After Tsubasa destroys them all Chris uses her Nirvana Gedon which causes an explosion as Tsubasa tries to block. She tries to fight as Tsubasa gets up but finds that she cannot move due to Tsubasa's Shadow Weaving. As Tsubasa sings her Zesshou Chris tries to summon a group a Noise to stop her only to see that Tsubasa has already reached her.
As Tsubasa finishes Chris is thrown back as the Nehushtan Armor is damaged. As it starts to repair Chris leaves the battle scene.
Later on, Chris is seen to be working with Finé and is punished with electrocution for her failure in capturing Hibiki. Later she is present at the attack on Hibiki and Ryoko during their transportation of Durandal. She is shocked by the fact that Hibiki was now able to fight the Noise as before she could barely use her Symphogear. She then steps in and kicks Hibiki before attempting to grab Durandal in which Hibiki knocks her out of the way. Out of anger Chris summons Noise before being blown away.
Later Chris is seen thinking about her past and childhood while feeling bitter toward Hibiki. As Fine appears Chris throws Solomon's Cane at Fine proclaiming that she can do what Fine wants without it. Later on Chris finds Hibiki and attacks her, but also attacking Miku in the process. She follows Hibiki away from Miku and attacks her. She expresses confusion at Hibiki's attampt at to talk to her and continues attacking. She is punches by Hibiki and the Nehustan Armour starts to crack.
Hibiki's words anger Chris and causes her to retaliate and harshly fight Hibiki. As the Nehustan Armor slowly regenerates Chris uses her Armour Purge and transform for the first time with the use of the Relic Ichaival. She proceeds to relentlessly attack Hibiki with the use of her newly revealed Relic. As the smoke clears she finds that Tsubsa had protected Hibiki from the attacks. She and Tsubasa begin to fight and Chris is unable to land any damage and prepares to continue fighting before Noise come down and damage her Armed Gear and attempt to harm her. She is saved by Hibiki and catches her afterwards.
Redemption and road to heroism
As Fine appears and discards Chris, Chris chases after her. Later in the night Chris walks alone and thinks about the fight from earlier. She finds children in the park and offers to help the children find their father. In the end she goes off the Fine's hideout and confronts her about being thrown away and is cornered by the Noise and Fine.
Having transformed Chris is running from a small group of Noise, she collaspes in a back alley after destroying all the Noise. She wakes up as Miku is caring for her and find that she was wearing Miku's clothes. She pulls the comforter around herself in embarassment as she isn't wearing underwear as Miku didn't give her any. She later thanks Miku for her care and comments that Miku is quiet. She tells Miku that she had been alone ever since her parents died and even then that they were half way around the world, and since then had never had friends.
She expresses her bitterness toward Fine for using her, having thought that Fine was the only one who had understood her. Chris also tells Miku to beat the shit out of whoever she had fought with and then make up. Confused at Miku's thanks Chris also gives Miku her name and is told that she wasn't a bad person. She pulls away at Miku's offer of friendship and admits to having done terrible things to her as the Noise Alarm goes off.
She is found by Noise after running off and tries to transform unsucessfully before being saved by Genjuro. Afterwards she transforms and fights off the Noise.
Chris is found by Genjuro who brings her food in which she was supicious of. After Genjuro finishes speaking and she finishes eating Chris jumps out a window before transforming and running away. Later on Chris tries to fight off a large group of Noise before Hibiki comes to her aid. After the battle Chris knocks over trashcans and wonders why she helped Hibiki as she was the enemy.
Music