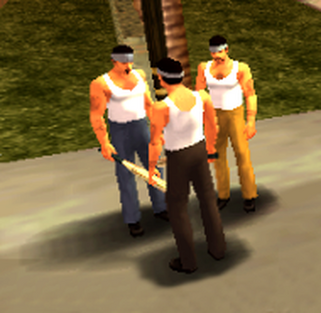 The
Cholos
are a group of Mexican gangbangers and villains in
GTA:Vice City Stories
. They are the sworn enemies of the Los Cabrones and reside in Little Haiti. Vic encountered them when he stopped them from wrecking a store under
Marty Jay Williams
's protection. They also at war with the Los Cabrones and attack their businesses.
The gang eventually dissolved when Victor Vance and some members of the Los Cabrones planted a bomb in the Cholos warehouse, wiping out the gang for good.
Ad blocker interference detected!
Wikia is a free-to-use site that makes money from advertising. We have a modified experience for viewers using ad blockers

Wikia is not accessible if you've made further modifications. Remove the custom ad blocker rule(s) and the page will load as expected.