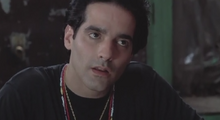 Chillie was one of Esteban's men in the 1994 movie Fresh.
He was played by Yul Vasquez, who many comedy fans will recognize for having played Bob, the villain who terrizes Kramer, on Seinfeld.
Chillie's villainaries are short, however, the main villainary of his is threatening Fresh with violence if any drugs are missing from the count. He also is a drug dealer, and he comes off as merciless. But he is also rather cool and collective and affably evil, given that you don't get on his bad side.