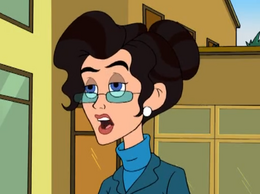 Child Services
is a recurring villain in Drawn Together. She made her first appearance in the episode "Captain Girl." She is a child services agent who takes children from their homes and families of which she believes to be unfit and places them with even more unfit foster families. She was originally voiced by Paget Brewster but is currently being voiced by Tara Strong.
Appearance
Child Services is a tall woman with white skin and black, shiny, wavy hair that is worn in a bun. She has a very stern look on her face with thick, full, dark eyebrows, blue eyes, and pink lips. She wears glasses and a blue shirt with a darker blue jacket over it. She wears a dark blue skirt and high heels of the same color.
Villainous Acts
In Captain Girl, she had mentioned that she had sent Foxxy's previous children, Heather and Raymond-Raymond to a foster family of which she knew would be horrible parents for them.
In the same episode, she took Toot's baby away from her whereas she likely sent to another bad family.
In Nipple Ring-Ring goes to Foster Care, Child Services stuffed Ling Ling inside of aluminum and threw him into the trash can along with a bunch of other children of which she did the same thing to. A dump truck eventually came by, and took them all away, sending them to a crappy, run down foster home.
Trivia
Child Services Woman may possibly be a parody on Faragonda from Winx Club, as the appearences of the two of them are very similar