Cheshire
Talk

0
26,570pages on
this wiki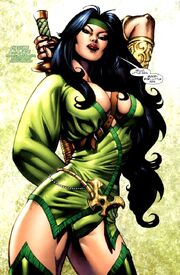 Cheshire is a villainess from the Teen Titans media. She is one of the major enemies of the Teen Titans.
Origin
Television History
Teen Titans

| | | |
| --- | --- | --- |
| " | Just like the Cheshire Cat, I'll just disappear. | " |
| | ~ Cheshire | |
It is unknown how Cheshire became one of the Teen Titans' foes before she was recruited into the Brotherhood of Evil. She was sent to capture Speedy, which was easily accomplished after she cut his bow in two with her claws. During the final battle with the Titans, She knocked Herald into the arms of the masked wrestler H.I.V.E. student after Herald's horn was clogged by Fang. Cheshire is not seen among the defeated villains, so it is possible that she managed to escape the battle.
Cheshire is a master-level martial artist and her other powers are using her long sleeves and long hair as whips and using her razor sharp hand claws. She also develops fast speed when walking on all fours and has the ability to turn invisible(except for the eyes and grinning smile of her mask).
Young Justice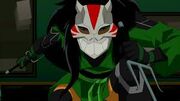 Cheshire, real name Jade Nguyen, is a highly-skilled assassin working for the League of Shadows. She is the daughter of Sportsmaster and Huntress, and the older sister of Artemis Crock.
This lady has a true killer's instinct and is willing to go to any means necessary to accomplish her goals, whether it be through attacks, murder, or blackmail. She has a dry sense of humor, and treats her opponents like a cat would treat a mouse, allowing herself to be involved in playful banter to a small extent. She actually enjoys the prospect of killing, but she is not without her own sense of duty, following the orders of her masters to the letter, despite how easy it would be for her to ignore them.