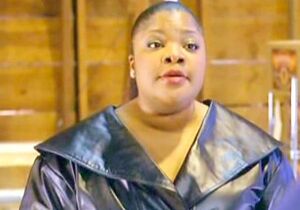 Cherry
is a villainess in the 2006 comedy movie
Beerfest
.
She was portrayed by Mo'Nique.
Cherry poses as caretaker for Jan and Todd Wolfhouse's Great Gam-Gam, but is secretly a spy sent from Germany to retrieve a beer recipe. She rapes their friend Barry while he's extremely intoxicated one night and later drowns their other friend Landfill in a giant vat of beer when he discovers that she's a spy.
During the final showdown against the Germans at the end of the movies, Cherry causes the USA team to lose an important drinking event by taunting Landfill's twin Gil about murdering his brother. She also reveals that she stole the recipe, but it turns out that it's a recipe for a different beer. For her failure, Cherry is executed.
Gallery
Ad blocker interference detected!
Wikia is a free-to-use site that makes money from advertising. We have a modified experience for viewers using ad blockers

Wikia is not accessible if you've made further modifications. Remove the custom ad blocker rule(s) and the page will load as expected.