Chernabog is a villain in Disney's 3rd full-length animated feature film, Fantasia. He serves as the main antagonist in the segment featuring Night on Bald Mountain, and one of the tertiary antagonists in Mickey's House of Villains. He is the tyrannical ruler of a dark realm called "Bald Mountain", of which when sleeping with wings folded over top himself, he appears as the mountain's peak. When awakened it can be see Bald Mountain is actually the top of a live but inactive volcano from which he summons an army of demons and undead. He ensues with his devilish antics at night until the sight of the first rays of dawn and the sound of the church bells ringing "Ave Maria" forces him back into slumber. It is unclear how often this night activity occurs, but is implied to be All Hallows Eve, also known as Halloween.
Despite the brevity of his appearance and his lack of a place in a larger story, Chernabog was highly memorable as he symbolizes all that is evil in a sequence that in turn symbolizes the essential struggle between Good and Evil and the eventual triumph of Good.
Chernabog also appears in Kingdom Hearts as a boss in the End of the World. He is the penultimate boss of the game, counting all of Ansem's forms as one. Naturally, he is one of the most powerful bosses in the game. He also appears in Dream Drop Distance, where he is fought by Riku as the boss of Symphony of Sorcery.
Kingdom Hearts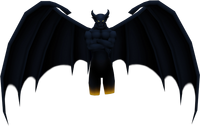 Chernabog is the only Disney villain with no explained reason for fighting Sora or aiding the Heartless in the Kingdom Hearts series. It is possible that he is such a dark entity already, he independently chooses to aid the Heartless in plummeting the universe into darkness by his own choice. This immense darkness could also be the reason he is the only non-Heartless fought in the End of the World realm, because there is no point to turn him into a Heartless. It is also entirely possible that he is unaware of the Heartless and their goal, and simply fights because his dark and evil nature makes him want to wipe out sources of good and light, such as Sora, who just happens to cross his path. Considering his location, however, it is possible he is simply a gatekeeper used by Ansem to bar Sora from the innermost reaches of the End of the World.
In the original Japanese version, the music played when he is fought is "Squirming Evil", the piece used when fighting most Disney Villains. However, in the international and Final Mix versions, an arranged version of the music from the original Fantasia short, Night on Bald Mountain, by Modest Mussorgski, is used as the battle music in Kingdom Hearts.
Dream Drop Distance
Chernabog later appeared in the world known as Symphony of Sorcery that attacked Riku. After Riku confronts a mysterious man in a black cloak, and talks with him for a brief while, he summons Chernabog from the volcano behind him to fight Riku. Despite this, Chernabog ended up getting defeated by Riku.
Mickey's House of Villains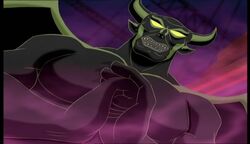 Chernabog also made an appearance in the movie
Mickey's House of Villains
. He was one of the many Disney villain who took over Mickey's House of Mouse. But for some reason, he was working for
Jafar
to help him take over Mickey's House.
After the villains took over the House, Chernabog was spotted on several occasions sitting with
Maleficent
after she turned into her
dragon from
, almost as if they were dating. It is unknown what happened to Chernabog after Mickey and the Disney heroes regain Mickey's House.
Once Upon a Time
Chernabog appeared in the fourth season of Once Upon a Time. He was released from the Sorcerer's Hat and terrorized Regina and Emma until they destroyed him by tricking him into leaving the city limits, where there is no magic.
Reception
Chernabog is often considered the most powerful Disney villain, for obvious reasons, despite not speaking and not even being part of a proper story. An official poll placed him in the #13 spot, and the Nostalgia Critic went as far as to name him the number 1 Disney villain of all time, though he mistakenly thought that he was not only the Devil (indeed, he referred to Chernabog only as "The Devil" in the review and not by his proper name) but that as such he had influence over all other villains in Disney (thus assuming that he is the Devil not only in the world of Fantasia but in the entire Disney multiverse). This was addressed in a later video about the Critic's "F**k–Ups", though even there he defended his error by saying that anyone watching Fantasia for the first time would assume him to be Satan.
Gallery
Trivia
Chernabog is mentioned in Kingdom Keepers II : Disney At Dawn. Naturally, Chernabog is the true main antagonist and Bigger Bad in the series.
At first, Chernabog was simply supposed to be Satan himself. But his name was changed, most likely for religious reasons.
Chernabog is actually a creature out of Baltic folklore, a devil like demi-god, except rather than being lord of the netherworld per say it ruled over the fragile vale between life and death, a sort of the king boogeyman.
In Slavic, his name means "lack God".
To some, Chernabog counts as the ultimate evil for the entire Disney multiverse.
Chernabog is the first protagonist villain of the Disney film, as there is no visible hero or heroine that is in the lead in this segment.
Although Chernabog only appears in the Night on Bald Mountain, he is considered the Big Bad of the entire film (most likely because he is Satan).

Chernabog's figure makes cameo appearance in the 2010 live action Disney film, The Sorcerer's Apprentice, as a gargoyle in one of the buildings that the Merlinean wizard Balthazar Blake passed when he discovered the changes on his Arcana Cabana shop.

In the original script of the film however, Chernabog featured as a demon like in Fantasia but with his sized reduced into 15 foot tall, but still larger than any men. He serves as a necromancer and a potential general for Morganians, and he masters the power to summon an army of wraiths to do his bidding. He was sealed inside the Grimhold until freed by a Morganian known as Maxim Horvath, and he later assist the legendary witch, Abigal Williams in kidnapping Dave Stutler's girlfriend Becky Barnes. He then proceed to summon hundreds of wraiths and assembled them as an army to destroy the city, and during the final battle, he was knocked by the combined forces of Dave and Balthazar. In the end, he eventually sealed back inside the Grimhold. Reasons why he was cut from the film's conclusion in the final script was because the director decided it would be better to save him for a sequel should they ever get the chance, as a villain of his magnitude deserves a stronger part.

Chernabog's gargoyle appears as one of the Drill Automatons that Balthazar animated as part of Dave's training under the name of "Gargoyle" in the online videogame Sorcerer's Apprentice: Fiery Frenzy. But unlike Chernabog that appeared in Night on Bald Mountain or in Once Upon a Time TV series, Gargoyle is animated as a quadrupedal creature.
Disney Villains
Animated Features
Queen Grimhilde | Magic Mirror | Honest John & Gideon | Stromboli | Coachman | Coachman's Minions | Monstro | T-Rex | Chernabog | Ringmaster | Ronno | Man | Tetti-Tatti | Lumpjaw | Willie | Mr. Winkie | Brom Bones | Rustlers | Headless Horseman | Lady Tremaine | Ugly Stepsisters | Lucifer | Queen of Hearts | Card Soldiers | The Walrus & the Carpenter | Captain Hook | Mr. Smee | Neverland Pirates | Maleficent | Diablo the Raven | Maleficent's Goons | Cruella De Vil | Jasper & Horace | Madam Mim | Shere Khan | Kaa | Louie | Bandar Log | Edgar Balthazar | Prince John | Sheriff of Nottingham | Sir Hiss | Captain Crocodile | Rhino Guards | Wolf Arrowmen | Trigger & Nutsy | Heffalumps & Woozles | Madame Medusa | Mr. Snoops | Brutus & Nero | Amos Slade | Chief | Horned King | Arawn | Creeper | Cauldron Born | Horned King's Guards | Gwythaints | Orddu, Orwen & Orgoch | Padraic Ratigan | Fidget | Felicia | Thugs | Bartholomew | Bill Sykes | Roscoe & DeSoto | Ursula | Flotsam & Jetsam | Glut | Percival C. McLeach | Joanna | Gaston Legume | LeFou | Monsieur D'Arque | Gaston's Buddies | Jafar | Iago | Razoul | Gazeem | Oogie Boogie | Lock, Shock & Barrel | Scar | Shenzi, Banzai & Ed | Hyena Clan | John Ratcliffe | Claude Frollo | Brutish & Oafish Guards | Frollo's Soldiers | Hades | Pain & Panic | Cerberus | Hydra | Titans (Lythos, Hydros, Pyros, Stratos & Cyclops) | Nessus | Nemean Lion | Minotaur | Shan Yu | Hayabusa | Elite Hun Soldiers | Cecil Clayton | Sabor | Clayton's Pirates | Jack-in-the-Box | Snooty Flamingos | Firebird | Kron | Bruton | Yzma | Kronk | Lyle Tiberius Rourke | Helga Katrina Sinclair | Rourke's Soldiers | Leviathan | Gantu | John Silver | Scroop | Onus | Hands | Turnbuckle | Longbourne | Fayvoon | Grewnge | Blinko | Krailoni | Hedley | Torrance | Mertock | Verne | Crex | Nathaniel Flint | Flint's Pirates | Alameda Slim | Rico | The Willies | Mr. Wesley | DOR-15 | Mike Yagoobian | Dr. Calico | Dr. Facilier | Lawrence | Facilier's Shadow | Friends on the Other Side | Mother Gothel | Stabbington Brothers | King Candy | Cy-Bugs | Sour Bill | Wynnchel & Duncan | Prince Hans | Duke of Weselton | Duke of Weselton's Bodyguards | Yokai | Mr. Yama | Dawn Bellwether | Doug Ramses | Jeese | Woolter | Ram Thug | Duke Weaselton | Te Kā | Tamatoa | Kakamora

Live-Action Movies
Long John Silver | Captain Nemo | Giant Squid | Pony Sugrue | Prince John (1952) | Barnaby | Peter Thorndyke | The Bookman | King Leonidas | Colonel Heller | Dr. Terminus | The Gogans | Charles Olympus | Bluto | Master Control Program | Sark | Ed Dillinger Sr. | Mr. Dark | Nome King | Princess Mombi | Judge Doom | Toon Patrol (Smarty, Greasy, Psycho, Wheezy & Stupid) | Neville Sinclair | Lothar | Coach Jack Reilly | Warden Nigel Snyder | Josepg Pulitzer | Delancey Brothers | Dr. Charles Hendrickson | Winifred Sanderson | Mary Sanderson | Sarah Sanderson | John Ricketts | The King and the Duke | Pap Finn | William Boone | Buldeo | John Wilkins | Tabaqui | Sergeant Harley | Juice (Blank Check) | Ranch Wilder | Injun Joe | Tony Perkis | Agent Woods | Aunt Sponge & Aunt Spiker | Rhino | Skeleton Pirates | Shark | Cruella De Vil (1996) | Alonzo | Mr. Skinner | Jean-Pierre Le Pelt | Norman Snively | Ricky King | Charlotte (Jungle 2 Jungle) | Lyle Van de Groot | Max & Thor | Beatrice Stanhope | Wilson Croft | Luanne LeSeur | Meredith Blake | Eddie Taffet | Andrei Strasser | Dr. Elliot Coleye | Dr. Claw | Lana Thomas | Principal Elliot T. Jindraike | Toy Santa | Warden Walker | Mr. Sir | Charles "Trout" Walker | Kissin' Kate Barlow | Ramsley | Paolo Valisari | Stacey Hinkhouse | Carla Santini | Lord Kelvin | General Fang | Inspector Fix | Black Scorpions | Viscount Mabrey | Ian Howe | Royal Pain | Stitches | Jadis the White Witch | Maugrim | Ginarrbrik | General Otmin | Vardan | Dr. Kozak | Jack Frost | Janice Avery | Gary Fulcher | Queen Narissa | Mitch Wilkinson | Simon Bar Sinister | Riff Raff | El Diablo | Kendall Duncan | Tiara Gold | Tess Tyler | Speckles | Miraz | Sospespian | Glozelle | Nikabrik | Hag & Werewolf | Lucinda | Oswald Granger | The Red Queen | The Knave of Hearts | Hamish Ascot | The Jabberwock | Jubjub Bird | Nizam | Morgana le Fay | Maxim Horvath | Ms. Stout | CLU 2 | Rinzler | Sab Than | Matai Shang | Tal Hajus | Jenny | Latham Cole | Butch Cavendish | Jay Fuller | Evanora | Theodora | King Stefan | King Henry | Taylor Dean | The Giantess | The Witch | The Wolf | Lady Tremaine (2015) | The Grand Duke (2015) | David Nix | Shere Khan (2016) | King Louie (2016) | Kaa (2016) | Fleshlumpeater | Bloodbottler | Giants | The King (2017)
Other Animated Movies
Br'er Fox & Br'er Bear | Elmo St. Peters | Giant Magnet | Evil Clown | Merlock | Guy Graham | Phillium Benedict | Fenwick | Kojak | Ivan Krank | Von Talon | Cufflingk & Underlingk | Kazar | The Supervisor | Mr. Whiskers | Were-Rat | Shelley | Colossus | Nassor | Edgar Gore | Toshiaki | Mr. Burgermeister | Ripslinger | Cad Spinner

Pixar
Sid Phillips | Hopper | Molt | Thumper | Stinky Pete | Al McWhiggin | Emperor Zurg | Zurg Empire (Zurg Bots, Warp Darkmatter, Hornets, Brain Pods & Grubs) | Henry J. Waternoose III | Randall Boggs | Jeff Fungus | Syndrome | Mirage | Omnidroids | Underminer | Bomb Voyage | Chick Hicks | Chef Skinner | AUTO | Charles Muntz | Alpha | Beta & Gamma | Lotso | Lotso's Gang (Ken, Big Baby, Stretch, Chunk, Sparks, Twitch & Monkey) | Miles Axlerod | Zundapp | Grem | Acer | Mor'du | Johnny Worthington III | Chet Alexander | Roar Omega Roar | Thunderclap | Pterodactyls | Bubbha | Velociraptors

Sequels
Abis Mal | Sa'Luk | Forty Thieves | Forte | Jesters | Zira | Nuka | Vitani | Outsiders | Morgana | Undertow | Cloak & Dagger | Bradley Uppercrust III | Tank | The Gammas | Buster | Reggie | Sarousch | Pom-Pom | Jacques von Hämsterviel | Reuben | Leroy | Erik Hellstrom | Lil' Lightning | Lord Qin | Atka | Dixie | Mama Gunda | Uto & Kago | Marina Del Rey

Shorts and Comics
Peg Leg Pete | Kat Nipp | Mad Doctor | H. U. Hennessy | Big Bad Wolf | Captain Katt | Mortimer Mouse | Ajax the Gorilla | Beagle Boys | Flintheart Glomgold | Magica De Spell | Grace Goodwin

Ad blocker interference detected!
Wikia is a free-to-use site that makes money from advertising. We have a modified experience for viewers using ad blockers

Wikia is not accessible if you've made further modifications. Remove the custom ad blocker rule(s) and the page will load as expected.