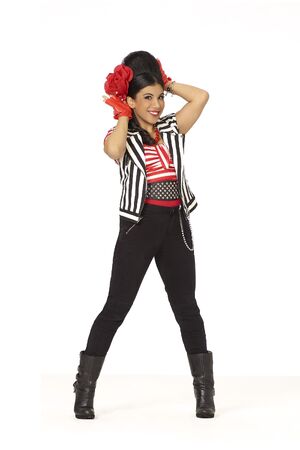 Cheechee is an anti-heroine in the Disney Channel Original Movie "Teen Beach Movie".
She is portrayed by Chrissie Fit.
History
While not an evil person, Cheechee is decipted as one of the antagonists of Wet Side Story, being one of the mean bikers. However, as the film progresses, Cheechee becomes a more anti-heroic/heroic character in the film.
Personality
CheeChee is known to be very competitive and has to be brave about anything. Although brave she really is a sensitive girl who has a real eye for fashion. She is also shown to be very loyal to her fellow bikers.
Gallery
Trivia
In Teen Beach 2, CheeChee and Seacat are a couple, like every other biker and surfer.
Ad blocker interference detected!
Wikia is a free-to-use site that makes money from advertising. We have a modified experience for viewers using ad blockers

Wikia is not accessible if you've made further modifications. Remove the custom ad blocker rule(s) and the page will load as expected.