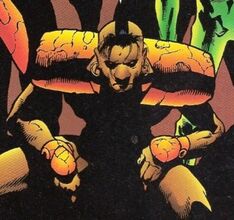 Charm was a member of Gene Nation.
History
He was supposedly one of Mikhail Rasputin's elite guards. After dealing with a bomb planted by Rasputin, Storm moved the Gene Nationals to a struggling African village, to learn the value of honest work.
She promised to keep an eye on them. Charm first appeared in the Storm limited series back in 1996 when she visited "The Hill" which was run by Mihail Rasputin. Charm was one of his personal protectors/guards.
Storm met them right before they were to attack an X-factor base in Virginia. when storm oposed a battle ensued in which he slashed her across the back and threatened to kill mikhail when storm had the upper hand. Despite their threats he still teleported all to the morlock tunnels and once their storm and the X-men subdued them and they were sent to a desolate village in Africa where they would need to "survive". Charm was never seen again and it is unknown what effect M-Day had on him.