Cereyon, AKA, Helios' Champion, is the main antagonist in the God of War Comics.
God of War Comics
Cereyon is Helios' Champion. He doesn't make an appearance until the end of the Comic Book series.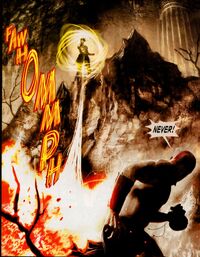 After Kratos killed
Gyges
, he was about to capture the Ambrosia. But suddenly, Cereyon appeared out of nowhere and attack Kratos. He attempting to burn Kratos to death and acquire the Ambrosia for himself. During the battle, most of the enviroment was destroyed. After a great and lengthy battle, Kratos was finally able to defeat Cereyon by tackling him into a stream below them, which extinguished Cereyon's pyrotic powers.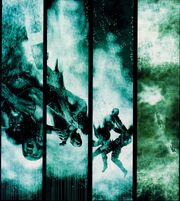 Kratos processed to finish off Cereyon by drowning him to death. Kratos did substain multiple burn wounds from the initial tackle, but by acquired the Ambrosia, Kratos successfully reversing all of his burnt wounds.