Celestials are immensely powerful beings, considered by some to be villains (confirmed as such in a few official works, where they have fought heroes and villains alike, they are greatly feared even by a being of Galactus' might).
Worshiped as 'space gods' by many races, they may be benevolent by their own lights (unlikely as they often act robotic and rather malevolent, save perhaps to their creations, the Eternals), but they have absolutely no regard for the interests of anyone but themselves. They consider virtually all other beings 'germs' (much like the Monitors of DC multiverse), and destroy entire worlds and species if they think it necessary. Even the Watchers are not safe from their judgment.
Appearance
Celestials are gigantic armor-clad humanoids. They are approximately 2,000 feet tall, some of them are even larger (such as the One Above All, who is so large he can form full-sized Celestials out of his chest (since an average Celestial is 2000 feet tall this makes the One Above All a truly gigantic being) : they can also merge with each other to create even larger and formidable forms.
History
The origins of the Celestials have always been vague, but it is known that they have visited Earth on at least 4 occasions (known as Hosts) during which they would alter and exterminate many of Earth's natives. They created both the Eternal and Deviant offshoots of humanity, as well as sinking Atlantis underneath the Ocean.
They have done this on many worlds throughout the universe, experimenting with life using entire planets as petrie dishes and mercilessly pruning the life forms they deem unworthy or useless. The ultimate goal of all this remains unknown. Nevertheless, they are not entirely deaf to placation; Thor and Susan Storm have both communicated with the Celestials.
Powers and abilities: the powers of the Celestials are for all intents and purposes limitless. When Odin, the head of one of Earth's most powerful pantheons, had decided to stand up to them. Working together with the heads of the other god families such as Zeus and Vishnu, he created a mighty weapon, the famous Asgardian Destroyer; when the Celestials reappeared on Earth, Odin animated  the automaton with the life-force of all Asgardians except for Thor and confronted the space gods wielding the deadliest weapon in the world, the Odinsword. But the Celestials handily dealt with this ultimate attack as if it were a mere distraction.
The Celestials. along with many of the Marvel Universe's abstracts, are killed by the Beyonders. they fight the enigmatic aliens with all their power, but are all destroyed
Notable Acts of Villainy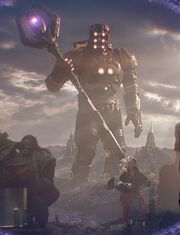 Although an amoral race of super-entities rather than true villains the Celestials have created dangerous artifacts and engaged in acts that some would consider immoral - usually to try and manipulate evolution in some fashion or to "purge" unwanted genetic codes from planets they are "progressing".
creation of the Death Seed.
Celestial technology is utilized by Apocalypse (though illegally so, since he was apparently punished by them over this over time)
regular "purge" of worlds deemed "failures" of genetic manipulation (amounts to mass-genocide / planetary destruction)
as a side-effect of a war between Celestials and the Godheads of Earth the Destroyer armor was forged.
the creation of Terminus is a result of an act of vengeance by an alien race on the Celestials, who judged them "unfit" for existence.
a group of Celestials encountered Galactus, who warned them he knew of their "true purpose" - this caused them to fly into a violent frenzy and try to destroy him, suggesting their true nature is sinister in nature.
Reed Richards of the Fantastic Four fought Celestials and managed to harm them with his advanced weaponry, this is one of the rare moments the Celestials have shown any weakness (save against omnipotent enemies such as the Beyonders).
the Celestials were said to have created the entire Deviant race just to consume en mass, they also mercilessly purged the Deviant race and destroyed much of their numbers - making the Deviants an endangered species.
the Celestials have destroyed countless civilizations and worlds, putting their kill-count in the trillions.. even Galactus, himself a planet-consuming entity, views the Celestials as dangerous.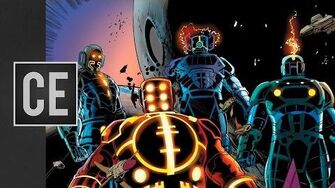 ==Notable Members==
Ad blocker interference detected!
Wikia is a free-to-use site that makes money from advertising. We have a modified experience for viewers using ad blockers

Wikia is not accessible if you've made further modifications. Remove the custom ad blocker rule(s) and the page will load as expected.