| | | |
| --- | --- | --- |
| " | Hiding, are we? Go on! I could use a challenge, because after I get rid of you, rounding up your little ape family will be ALL TOO EASY! | " |
| | ~ Clayton taunting Tarzan | |
| | | |
| --- | --- | --- |
| " | Go ahead. Shoot me. Be a man. *laughs* | " |
| | ~ Clayton goading Tarzan, as well as his last words. | |
William Cecil Clayton, simply known as Clayton, is the main antagonist of Disney's 37th full-length animated feature film, Tarzan. He is Tarzan's arch-nemesis and the "bodyguard" of Archimedes Q. Porter and Jane Porter.
He was voiced by Brian Blessed, who also played El Supremo in Freddie as F.R.O.7..
Personality
| | | |
| --- | --- | --- |
| " | What's going on here!? (Tarzan: Clayton! Clayton, help!) Have we met? Ah yes, the ape man! (Clayton...you...you!) I'm so sorry for the rude welcoming, old boy. But I couldn't have you making a scene, when we put your "furry friends" in their cages! (Tarzan: Why?) Why? For three hundred pounds sterling a head! Actually, I have you to thank my boy! Couldn't have done it without you! Lock him up with the others! | " |
| | ~ Clayton revealing his true colors. | |
Clayton initially appears as a chivalrous and polite gentleman, albeit with a delicate temper and intolerance for treating the African expedition as a vacation experience, rather than a business endeavor, as Jane and Porter are often sidetracked by sights and wildlife other than the gorillas. He is also shown to have a hint of hatred towards animals, and ignorance in terms of understanding them, believing that gorillas would be savage beasts, in spite of Porter's hypothesis that gorillas are generally social creatures. This also ties to Clayton's slight obsession of the jungle, as he is shown to be overly caring and protective of himself, as well as trigger-happy and unpredictable, blasting his gun the second that he suspects that an animal (other than a gorilla) may be nearby.
As time goes on throughout the film, Clayton's patience with Jane and Porter decreases thin, and with it, his true nature begins to unfold; one that is extremely vicious, cruel, abusive, opprobrious, uncomplimentary, vituperative, and conniving. By the time the climax comes forth, he is revealed to be a very manipulative and sinister individual who plans to make wealth from selling gorillas. According to the audio commentary of Tarzan on DVD, Clayton's actions (during his final moments) in the film were meant to mirror the film's first antagonist, Sabor, symbolizing Clayton's increasing lack of humanity and descent into animalistic madness.
Biography
Tarzan
Clayton first started out as a rather haughty and aggressive guide who was clearly more interested in hunting animals than researching them, much to the displeasure of Jane and her father - who were searching for gorillas for research rather than for profit. Despite his behavior, Clayton didn't show signs of being a true villain at that point, though he was always slightly antagonistic. However, his antagonism worsened when the group came across Tarzan. Clayton figured that this "missing link" could be his ticket to finding the gorillas and he tried to get Tarzan to aid him.
However, Clayton was neither patient nor particularly nice, thinking of Tarzan as inferior and somewhat stupid (without knowing that Tarzan is actually both stronger and smarter than he is). Eventually, Tarzan did lead the group to the gorillas, but more out of his growing love for Jane and the way she and her father had treated him (with respect rather than insults). Clayton came along under the false promise that the gorillas wouldn't be harmed.
Once he learned of the gorillas' home, Clayton's true nature quickly surfaced as he had Jane, her father, and Tarzan captured and imprisoned - it was then Clayton revealed what he truly was: a poacher. Soon, Clayton and his henchmen begin to cause widespread havoc in the jungle, snatching gorillas and putting them in cages, presumably to be either sold or killed.
However, Tarzan manages to escape and fights Clayton to save his family. During this conflict, Clayton shoots Kerchak dead. later, the tragedy of the moment is made worse as Kerchak finally accepts Tarzan as his son, only to die. Angered, Tarzan renews his attack on Clayton and gets the upper-hand, holding the rifle to Clayton.
The poacher mocks Tarzan and tells him to shoot him and be a "man". But Tarzan regains his senses and smashes the rifle against a tree, stating bitterly to Clayton that he was "not a man like you". Clayton is unmoved and proceeds to attack Tarzan with his machete, but he is too quick and agile, as he uses vines to try and restrain Clayton.
But, this only serves to drive Clayton into a frenzy and he slashes at the vines, unaware that one of them was tightening around his neck. Tarzan realizes what was happening and warned Clayton to stop, but the mad hunter wouldn't listen and ultimately cut the vine he was holding, making both plunge down as the remaining vine wrapped around his neck and effectively hanged him, snapping his neck instantly.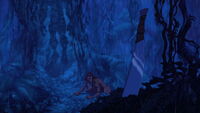 Afterwards, Tarzan lands on the ground as a flash of lightning reveals Clayton's hanged corpse swaying ever so lightly in the breeze.
The Legend of Tarzan
Clayton does not physically appear in the series, but he is mentioned once.
During one episode, Clayton's sister Lady Waltham comes after Tarzan, seeking vengeance for what she saw as her brother's cold-blooded and traitorous murderer. However, when Tarzan managed at great risk to save her from a fate similar to Clayton's, she came to realize that the man who did this for her could never be a savage killer and left the jungle.
Kingdom Hearts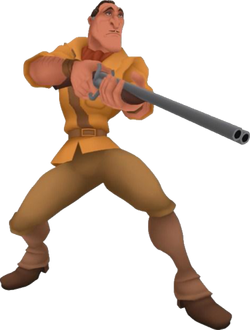 Clayton finds Donald and Goofy and brings them back to the tent where they are reunited with Sora. Clayton meets Tarzan and asks for the whereabouts of the gorillas, and Tarzan obeys and reveals the location.
Clayton soon finds Terk the gorilla and tries to shoot her, but is stopped by Donald. He says he tried to shoot a snake attacking Terk, but they disbelieve him and he is reprimanded. Furiously, his anger attracts the Heartless, who he decides to use to kill off the gorillas.
He kidnaps Jane and Terk and hides them in the forest and then brings the Heartless to the gorilla location. As the Heartless are about to attack, Tarzan arrives, joined by Sora, Donald and Goofy, and a battle erupts. Clayton takes aim at his enemies and uses his gun as a club, but is defeated.
Clayton was not done yet, and called upon the Stealth Sneak to help fight his enemies. Now a bigger threat than before, Clayton battled once more, but was knocked down by Clayton. As he takes aim at Sora, the Stealth Sneak is subdued and falls on him, crushing his body and killing him.
Trivia
In the Tarzan books, Clayton was Tarzan's biological cousin who had inherited the family estate after the disappearance and deaths of Tarzan's parents John II and Alice Clayton. He was also engaged to Jane, but later ends it before dying of fever.
Currently, it is unknown what Clayton's real name is as he was simply referred to as Clayton in the first film. However, it can be assumed that his first name could be Cecil, John, or Casper.
According to the film commentary, Clayton's outfit was designed to appear like Sabor's yellow fur to designate him as the new villain. When he's introduced, he's covered in shadows that give him the look of spots similar to Sabor's.
Disney Villains
Animated Features
Queen Grimhilde | Magic Mirror | Honest John & Gideon | Stromboli | Coachman | Monstro | T-Rex | Chernabog | Pink Elephants | Man | Ronno | Tetti-Tatti | Lumpjaw | Willie | Mr. Winkie | Rustlers | Headless Horseman | Brom Bones | Lady Tremaine | Anastasia Tremaine | Drizella Tremaine | Lucifer | Queen of Hearts | Card Soldiers | Cheshire Cat | The Walrus & the Carpenter | James Hook | Neverland Pirates (Mr. Smee) | Rat | Si & Am | Maleficent | Diablo | Maleficent's Goons | Cruella De Vil | Jasper & Horace | Madam Mim | Shere Khan | Kaa | King Louie | Bandar Log | Edgar Balthazar | Prince John | Sheriff of Nottingham | Sir Hiss | Captain Crocodile | Rhino Guards | Wolf Arrowmen | Trigger & Nutsy | Heffalumps & Woozles | Madame Medusa | Mr. Snoops | Brutus & Nero | Amos Slade | Chief | Horned King | Horned King's Army (Creeper & Gwythaints) | Cauldron Born | Orddu, Orwen & Orgoch | Arawn | Padraic Ratigan | Thugs (Fidget, Felicia & Bartholomew) | Bill Sykes | Roscoe & DeSoto | Ursula | Flotsam & Jetsam | Glut | Percival C. McLeach | Joanna | Beast | Gaston LeGume | LeFou | Monsieur D'Arque | Tom, Dick, Stanley & Walter | Wolves | Jafar | Iago | Razoul | Gazeem | The Cave of Wonders | Oogie Boogie | Lock, Shock & Barrel | Scar | Hyena Clan (Shenzi, Banzai & Ed) | John Ratcliffe | Percy | Claude Frollo | Frollo's Soldiers (Brutish Captain and Oafish Guard) | Hades | Pain & Panic | The Fates | Cerberus | Hydra | Titans (Lythos, Hydros, Pyros, Stratos & Cyclops) | Nessus | Nemean Lion | Shan Yu | Hayabusa | Elite Hun Soldiers | Cecil Clayton | Sabor | Clayton's Pirates | Black Triangles | Jack-in-the-Box | Firebird | Kron | Bruton | Kuzco | Yzma | Kronk | Lyle Tiberius Rourke | Helga Katrina Sinclair | Rourke's Mercenaries | Leviathan | Vikings | Gantu | John Silver | Pirates (Nathaniel Flint, Scroop, Onus, Hands, Turnbuckle, Longbourne, Fayvoon, Grewnge, Krailoni, Hedley, Torrance, Mertock, Verne & Crex) | Alameda Slim | Rico | The Willies | Mr. Wesley | DOR-15 | Mike Yagoobian | Dr. Calico | Dr. Facilier | Lawrence | Facilier's Shadow | Friends on the Other Side | Mother Gothel | Stabbington Brothers | Wreck-It Ralph | Turbo | Cy-Bugs | Sour Bill | Wynnchel & Duncan | Queen Elsa | Prince Hans | Duke of Weselton | Erik & Francis | Yokai | Mr. Yama | Dawn Bellwether | Doug Ramses | Woolter & Jesse | Ram Thug | Duke Weaselton | Te Kā | Tamatoa | Kakamora
Live-Action Movies
Long John Silver | Captain Nemo | Pony Sugrue | Prince John (1952) | Jacques Lebeau | Barnaby | James Haggin | Apaches | Judge Higgins | Mountain Ox | Peter Thorndyke | Vince Heber | A.J. Arno | Cookie | Colonel Pierson | Colonel Heller | King Leonidas | Bookman | Mark Pierson | Sam Eagle Speaker | Krinkle | Dr. Terminus | Gogans | Charles Olympus | Hans Reinhardt | The Watcher | Bluto | Vermithrax Pejorative | Master Control Program | Sark | Ed Dillinger Sr. | Mr. Dark | Mike | Nome King | Princess Mombi | Connie | Timber Wolf | Hunter | Eagle | Alistair Patton | Judge Doom | Toon Patrol (Smarty, Greasy, Psycho, Wheezy & Stupid) | Walter Boyett | Mr. Patel | Abdullah | Nigel | Beauty Smith | Luke | Tinker | Cherokee | Neville Sinclair | Lothar | Jack Reilly | Nigel Snyder | Joseph Pulitzer | Delancey Brothers | Charles Hendrickson | Winifred Sanderson | Mary Sanderson | Sarah Sanderson | John Ricketts | The King and the Duke | Pap Finn | Cardinal Richelieu | Comte de Rochefort | Milady de Winter | Leland Drury | Heath | Miners | William Boone | Buldeo | John Wilkins | Tabaqui the Guide | Sergeant Harley | Juice (Blank Check) | Ranch Wilder | Injun Joe | Tony Perkis | Agent Woods | Jack and Ralph | Ashcan and Pete | Aunt Sponge & Aunt Spiker | Rhino | Skeleton Pirates | Shark | Cruella De Vil (1996) | Jasper & Horace (1996) | Mr. Skinner | Jean-Pierre Le Pelt | Alonzo | Norman Snively | Ricky King | Charlotte | Lyle Van de Groot | Max & Thor | Lion | Beatrice Stanhope | Chester Hoenicker | Wilson Croft | Smith and Wesson | Bennett Hoenicker | Luanne LeSeur | Meredith Blake | Shere Khan (1998) | Tabaqui the Hyena | Eddie Taffet | Andrei Strasser | Elliot Coleye | Dr. Claw | Kramer | RoboGadget | Malcolm | Lana Thomas | Elliot T. Jindraike | Toy Santa | Louise Walker | Mr. Sir | Charles "Trout" Walker | Kissin' Kate Barlow | Linda Walker | Sheriff | Hector Barbossa | Crew of the Black Pearl (Bo'sun, Scratch, Pintel & Ragetti) | Ramsley | Zombies | Stacey Hinkhouse | Carla Santini | Lord Kelvin | General Fang | Inspector Fix | Black Scorpions | Viscount Mabrey | Ian Howe | Royal Pain | Stitches | Lash | Jadis the White Witch | Jadis' Secret Police (Maugrim & Vardan) | Ginarrbrik | General Otmin | Dr. Kozak | Jack Frost | Davy Jones | Crew of the Flying Dutchman (Maccus & Kraken) | Lord Cutler Beckett | East India Trading Company | Tai Huang | Janice Avery | Gary Fulcher | Queen Narissa | Mitch Wilkinson | Simon Bar Sinister | El Diablo | Henry Burke | Miraz | Telmarines (Glozelle & Lord Sopespian) | Nikabrik | Hag & Werewolf | Kendall Duncan | Tess Tyler | Speckles | Lucinda | Oswald Granger | Red Queen | Knave of Hearts | Card Soldiers | Jabberwock | Jubjub Bird | Hamish Ascot | Morgana le Fay | Morganians (Maxim Horvath, Abigail Williams, Sun Lok, Drake Stone & Marrok) | Nizam | Ms. Stout | CLU 2 | Rinzler | Blackbeard | Angelica Teach | The Spaniard | King Ferdinand VI | King George ll | Sab Than | Matai Shang | Tal Hajus | Jenny | Latham Cole | Butch Cavendish | Jay Fuller | Evanora | Theodora | Maleficent (2014) | Diaval | King Stefan (2014) | King Henry | The Giantess | The Witch | The Wolf | Lady Tremaine (2015) | Grand Duke (2015) | Anastasia Tremaine (2015) | Drizella Tremaine (2015) | Lucifer (2015) | David Nix | Shere Khan (2016) | King Louie (2016) | Kaa (2016) | Bandar Log (2016) | Fleshlumpeater | Giants (Bloodbottler & Bonecruncher) | Pramod Kadam | Beast (2017) | Gaston LeGume (2017) | LeFou (2017) | Monsieur D'Arque (2017) | Tom, Dick & Stanley (2017) | Wolves (2017) | The King (2017) | Armando Salazar | Crew of the Silent Mary (Lesaro) | Scarfield | It
Other Animated Movies
Br'er Fox & Br'er Bear | Elmo St. Peters | Giant Magnet | Evil Clown | Merlock | Dijon | Guy Graham | Phillium Benedict | Fenwick | Kojak | Ivan Krank | Von Talon | Cufflingk & Underlingk | Kazar | Vidia | Supervisor | Mr. Whiskers | Were-Rat | Shelley | Colossus | Nassor | Toshiaki | Mr. Burgermeister | Ripslinger | Ned | Zed | Cad Spinner | Zarina | Bog King | Roland
Sequels
Abis Mal | Sa'Luk | Forty Thieves | Maestro Forte | Fife | Jesters | Zira | Outsiders (Nuka & Vitani) | Mack McCro | Supreme Commander | Morgana | Undertow | Cloak & Dagger | Bradley Uppercrust III | The Gammas | Buster | Reggie | Sarousch | Pom-Pom | Jacques von Hämsterviel | Reuben | Sparky | Leroy | Erik Hellstrom | Lil' Lightning | Lord Qin | Bandits | Mama Gunda | Uto & Kago | Marina Del Rey
Shorts, TV Shows, Comics and Video Games
Peg Leg Pete | Phantom Blot | Mad Doctor | Gustav | Lonesome Ghosts | Doctor Vulter | Arpine Lusène | Lawyer Sharky | Eli Squinch | Sylvester Shyster | Fantomius | Inquinator | Spectrus | Zafire | Bad-7 | H. U. Hennessy | Zeke Midas Wolf | Captain Katt | Mortimer Mouse | Beagle Boys | Ajax | Witch Hazel | Adolf Hitler | Nazi School Teacher | Little Hans | Fat Cat | Norton Nimnul | Aldrin Klordane | Baby Thaddeus | Julius | Frankenollie | Mizrabel | Dr. Slicer | Gilda | Chuckles | Princess Irmaplotz | Sharky & Bones | Red Jessica | Beatrice Le Beak | ShiverJack | Grace Goodwin | Shadow Blot | Captain Hook
Disney Parks
Alien | Auctioneer | Bartholomew Gore | Black Prince | The Bride | Constance Hatchaway | Daisy de la Cruz | Executioner | Hatbox Blast-Ups | Hatbox Ghost | Hitchhiking Ghosts | Madame Leota | Master Gracey | Nebula Ghosts | Phantom | Pirates | S.I.R. | Werecat Lady | Yeti (Expedition Everest) | Yeti (Matterhorn Bobsleds)