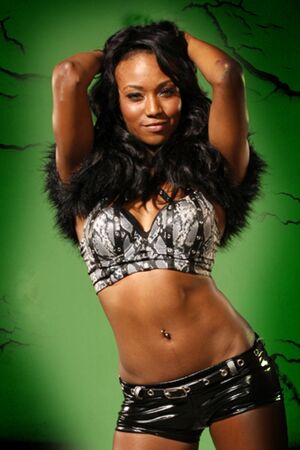 Christina Crawford is a retired professional wrestler best known for her time in WWE via their developmental territory, Florida Championship Wrestling, where she competed under the name Caylee Turner. She is the real-life younger sister of WWE Diva Alicia Fox.
Caylee mainly competed as a babyface in FCW, which led to her becoming the final FCW Divas Champion in August of 2012. During her stint in FCW, Caylee participated in WWE's Tough Enough program in 2011 under her real name, and was one of five female contestants on the show. During an in-ring practice, Christina botched a move that resulted in an injury to Ivelisse Velez, and led to her abrupt elilmination. Chrstina was eliminated herself shortly afterward.
After FCW became the new and current version of NXT, Caylee made her first and only appearance on the new program on August 8, doing so as a villainess. On that date's show, the evil Caylee aligned with Kaitlyn, who was also portraying a villainess, and the duo lost to Paige and Tamina Snuka. After the match, Caylee and Kaitlyn argued and blamed each other for the loss. Caylee was released from WWE six days after her NXT appearance.
After her WWE release, Christina briefly competed on the independent circuit, doing so for Northeast Wrestling on December 8, 2012. She was defeated by her fellow former Tough Enough contestant Ivelisse Velez, and after the match ended, Christina established herself as a villainess by attacking Ivelisse. Christina demanded a contract for Northeast Wrestling, but two days later, she was again defeated by Ivelisse and per the pre-match stipuation, Christina is banned from Northeast Wrestling.
Gallery