| | | |
| --- | --- | --- |
| " | I'm Cupid, stupid. | " |
| | ~ Carrie | |
Carrie Cutter, also called Cupid is an antagonist in the series "Arrow". After being saved by the Arrow at the night Deathstroke's army attacked, she became obsessed with him.
She is portrayed by Amy Gumenick.
Early life
She was a SCPD police officer and later SWAT unit's first female member. She was discherged for stalking one of her colleagues. At the night pf Deathstroke's attack she was almost killed by one of Deathstroke's henchmen but saved by the Arrow. This was the moment when she became obsessed with him. Since then she visited every crime scene connected to the Arrow.
In the series
Draw Back Your Bow
She murders Isaac Stanzler when he is about to be brought to prison, injuring two policemen in the process. Inside the arrow used to kill Stanzler she left an adress which the Arrow visits only to find a room full of candles, a heart made out of arrows and a cellphone. Carrie then calls the cellphone, stating that she wants to help Arrow clean the city, and sends a picture of a mob boss strapped to a bomb vest and suggests that they could punish him together. Felicity manages to trace her sim card and finds out her identity. Arrow notices fertilizer in the background of the picture and connects it to the gardening club Sherwood Florist where Carrie is a member.
Arriving at the greenhouse, Arrow manages to save the mob boss but Carrie knocks out Arsenal and escapes.
The Arrow visits Carrie's psychatrist who tells him about Carrie's mental state.
Carrie visits a friends who helped her tracking down the Arrow's activities in the last months. He deduces that the Arrow's base is somewhere close to the Verdant nightclub and is then murdered by Carrie.
To search for the exact location, Carrie visits the Verdant where she is called by the Arrow. He tells her to meet him. She accepts but warns him that she will return to the club and kill everyone inside should he play with her.
They meet at the place where the Arrow saved Carrie's life. When he tries to tell her that she needs help and cannot be with him she furiously shoots an arrow at him, but he ducks and returns fire, shooting her bow out of her hand. Carrie continues to attack him but he beats her down. Destroying the grid underneath both of them, Carrie drops them both into the subway where she gets the upper hand. She plans to kill both the Arrow and herself by an upcoming subway, uniting them in eternity, but the Arrow manages to get both of them out of the train's way. Seing that at a sign of his affection she exclaims that she knew that the Arrow loved her.
To keep her out of prison, the Arrow gives her over to Amanda Waller to make her a member of the Suicide Squad.
She is part of the Suicide Squad's mission in Kasnia. She is almost killed by the Senator but is saved by Deadshot. Like with the Arrow, she gets obsessed with Deadshot which clearly annoys the latter. When the building gets blown up she makes it out of the building and is distraught when Deadshot is killed in the explosion.
Return to Star City
| | | |
| --- | --- | --- |
| " | How beatutiful...and pathetic! Love is a bullet to the brain...or an arrow to the heart! | " |
| | ~ Carrie to her first victims | |
According to her deal with Waller, Carrie's sentence was reduced and she was released from A.R.G.U.S. . Carrie eventually returns to Star City years later, now crusading
against
love. She kidnaps a famous couple who were recently married and after ensuring that both deeply love each other, shoots an arrow into both their hearts.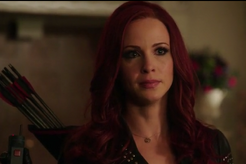 She arranges the bodys to shape a heart and drops them near a highway where the two are eventually found. Lance calls Oliver and his team, revealing that Cutter is back. Felicity tracks her down, finding out that she took another couple hostage and is driving through the city with them in their limousine. Oliver and Team Arrow pursue her through Star City and Thea eventually jumps onto the car's roof but is thrown off when Cutter drives through a wooden wall inside a warehouse. Oliver follows her but finds the car empty. He is then assaulted by Cutter and they start fighting. Oliver uses a rope arrow to tie her up but she breaks free using one of her arrows to cut the rope. While Oliver checks whether the couple is well, Carrie flees from the warehouse.
Felicity eventually tracks down Carrie to a warehouse for wedding dresses. Inside, the team finds another shrine, this time dedicated to married celebrity couples, thereby finding out which people Cutter is targetting. They realise that Cutter intended to attack Oliver and Felicity but by breaking their engagement they took themselves out of Cutter's crosshairs. To capture Cutter, Oliver and Felicity intend to set up a fake wedding to lure Carrie in. They are indeed assaulted by Carrie and Oliver is shot in the chest. She also reveals that she rigged the entire building with explosives. Oliver, who reveals that he's wearing kevlar under the tux, and Felicity try to talk her out of it, causing Carrie to reveal that she loved two people in her life, with all her soul, and that the death of the two caused her to realise that love would always result in death. By revealing her story to Carrie, Felicity manages to convince her that love can also mean life. Before Carrie can act either way, she is attacked by the rest of Team Arrow and eventually tied up with a rope arrow again. Before she can free herself she is shot by Oliver with a stun gun. The police arrives eventually to arrest Cutter. While she is brought outside the building she is walked past Oliver and Felicity and tells both to "give the rest of us hope".
Gallery
Trivia
In the DC comics, Carrie Cutter is the supervillain, known as Cupid, she is also an enemy of Green Arrow and Black Canary, the former who she is obsessed with; she became insane after Carrie volunteered for a top secret program called Cobalt, it turns her emotions up to the extreme when it came to falling in love. Other effects included memory loss and increased strength.
Cupid became infatuated with Deadshot instead of the Arrow after he saved her life from a bullet in "Suicidal Tendencies" showing how easily she can alter the object of her affection.
Ad blocker interference detected!
Wikia is a free-to-use site that makes money from advertising. We have a modified experience for viewers using ad blockers

Wikia is not accessible if you've made further modifications. Remove the custom ad blocker rule(s) and the page will load as expected.