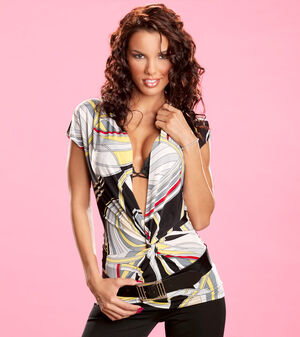 Carmella DeCesare
is a Playboy Playmate and a Playmate of the Year who participated in the 2004 WWE Diva Search, where she finished as the runner-up and eventually became the main villainess of the contest.
Carmella was one of the final ten contestants in the 2004 WWE Diva Search, but as the contest progressed, she would begin to receive negative reactions from the crowd. On September 20, 2004, Christy Hemme was announced as the winner of the Diva Search, while Carmella finished as the runner-up. A week after the contest ended, Carmella turned into a villainess and showed jealousy of Christy by claiming that she stole the main roster spot from her. After a physical confrontation on a later edition of Raw, it was announced that Carmella and Christy would face each other at Taboo Tuesday, with the fans being able to select what type of match they would participate in. After the announcement was made, the evil Carmella attacked Christy in the ring. At Taboo Tuesday, Carmella was defeated by Christy in a Lingerie Pillow Fight, which 56% of the fans voted for. The other options were an Evening Gown Match and an Aerobics Challenge. Carmella's tenure with WWE ended after Taboo Tuesday.
In her short stint as a villainess, Carmella expressed jealousy of Christy as well as arrogance, often stating that she was Playmate of the Year.