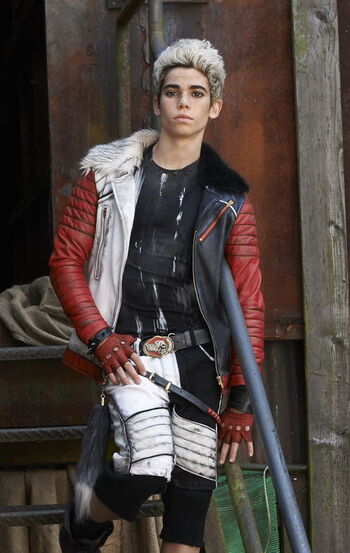 Carlos De Vil is the son of Cruella De Vil In the live action movie musical Descendants
He was invited by Prince Ben (like the other Villain Kids) to Auradon to participate in their parents' plot to steal Fairy Godmother wand. He also has a fear of dogs because of what his mother had said to him about them, but Ben showed him that dogs are not that bad after introducing him to Dude and showing an attraction to him that will later blossom into a romance. He's also a member of the Tourney team like his friend Jay. Like everyone in his group, he chose good over bad and he seems to be be really interested in Jane daughter of Fairy Godmother who is apart of his villains group and later they both discover their intense feelings for each other and become boyfriend and girlfriend.
Ad blocker interference detected!
Wikia is a free-to-use site that makes money from advertising. We have a modified experience for viewers using ad blockers

Wikia is not accessible if you've made further modifications. Remove the custom ad blocker rule(s) and the page will load as expected.