Quincy McIver was born on a Caribbean island. He became a quadruple amputee when he lost his arms and legs in a boating accident while trying to evade the police underwater. Shortly later, the Roxxon Oil Company equipped him with bionic arms and a snake-like tail in the place of the lower half of his body. He took the name "Bushmaster" from his fallen brother, the first Bushmaster. Years later, Sidewinder enlisted Bushmaster to join the criminal trade union known as the Serpent Society. Bushmaster was grateful for the unity and the steady employment. After all, he considered himself to be a freak, and the Society was his best chance in life. In fact, he made a friend in Diamondback, a fellow Society member.
In his first mission with the Serpent Society, he was hired by AIM to hunt down MODOK. MODOK severed Bushmaster's artificial appendages, and Diamondback saved Bushmaster's life. He soon received new bionic arms.
After the Viper took over the Society, Bushmaster remained loyal to Sidewinder. He was poisoned by the Viper, but was saved by Captain America and Diamondback. He then participated in the Serpent Society's mission to recover mystic objects for Ghaur and Llyra. He withdrew from combat against the X-Men to repay his debt to Diamondback.
Sidewinder, disillusioned by the betrayals of some of the Serpents, had turned over control of the guild to the Cobra, and Bushmaster served him next. At Diamondback's trial, Bushmaster voted to spare her life from a death sentence. After the trial, Bushmaster fought Diamondback, and next, Captain America and Paladin. He was finally taken into custody. He was later released from the Vault.
Civil War
During the superhuman Civil War, Quincy McIver, like many other villains, was apprehended by Baron Zemo and forced to join Thunderbolts. He briefly appeared along with fellow Serpent Society members King Cobra and Rattler.
Alyosha Kravinoff began collecting a zoo of animal-themed superhumans, including Gargoyle, Tiger Shark, Kangaroo, Aragorn, Vulture, Mongoose, Man-Bull, Dragon Man, Swarm, Mandrill, Grizzly, Leap-Frog, and Rhino. Bushmaster was apparently killed by Kraven and left face down in the water aboard the sinking ship. In the end, the Punisher managed to sabotage this zoo; though Kraven himself escaped to the Savage Land.
Television History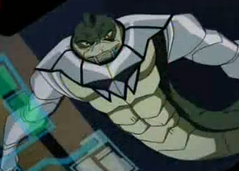 Bushmaster appears in The Avengers: Earth's Mightiest Heroes episodes "Ultron-5", "Along Came a Spider...", and "Yellowjacket", as a member of the Serpent Society and has no dialogue.
Marvel Cinematic Universe
Bushmaster will appear as the main antagonist of the second of Netflix's Marvel's Luke Cage. He will be portrayed by Mustafa Shakir.
Captain America Villains
Comics
Absorbing Man | Adolf Hitler | A.I.M. | Aleksander Lukin | Arcade | Arnim Zola | Awesome Android | Baron Blood | Baron Von Strucker | Baron Zemo | Baron Zemo II | Batroc the Leaper | Black Talon | Blitzkrieg | Blizzard | Boomerang | Bullseye | Cache | Constrictor | Count Nefaria | Cowled Commander | Crime Wave | Crimson Dynamo | Crossbones | Cutthroat | Dark Avengers | Doctor Doom | Doctor Faustus | Doctor Octopus | Dragonfly | Dragon Man | Electro | Famine | Firebrand | Fixer | Flag-Smasher | Ghost | Grand Director | Griffin | Grim Reaper | Heinz Kruger | Herr Kleiser | HYDRA | Hydro-Man | Jack O' Lantern | Killer Shrike | King Cobra | Kingpin | Klaw | Kligger | Korvac | Lady Deathstrike | Living Laser | Machinesmith | Madame Viper | Madcap | Magneto | Man-Ape | Mandarin | Master Man | Mentallo | Mesmero | Mister Hyde | M.O.D.A.M. | M.O.D.O.K. | Mole Man | Moonstone | Nightmare | Nightshade | Obadiah Stane | Punisher | Quicksand | Red Skull | Rhino | Ringmaster | Ronan | Roxxon | Säurespritze | Scarecrow | Scorpion | Secret Empire | Selene Gallio | Serpent Society | Shocker | Shockwave | Sidewinder | Sin | Skeleton Crew | Slug | Stilt-Man | Super-Adaptoid | Superia | Super Patriot | Supreme Intelligence | Tarantula | Taskmaster | Terminus | Thanos | Titania | Titanium Man | Trapster | Typhoid Mary | Unicorn | Ultron | Vermin | Watchdogs | Whirlwind | Winter Soldier | Worthy | Wrecker | Wrecking Crew | Yellow Claw | Zahnmörder | Zodiac
Movies
Captain America (1990): Red Skull | Valentina de Santis
The First Avenger: Red Skull | HYDRA (Arnim Zola, Heinz Kruger & Velt) | Adolf Hitler | Roeder | Hutter | Schneider
The Winter Soldier: Alexander Pierce | HYDRA/STRIKE (Winter Soldier, Brock Rumlow, Jack Rollins, Jasper Sitwell, Russo, Senator Stern, Arnim Zola, Wolfgang von Strucker, List, Scarlet Witch & Quicksilver) | Georges Batroc | Ferdinand Lopez | Gerald Durand
Civil War: Helmut Zemo | Thunderbolt Ross | Winter Soldier | Black Widow | Crossbones | HYDRA (Vasily Karpov & Winter Soldiers)