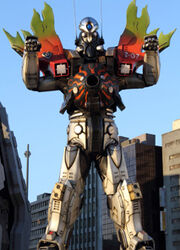 The
BurnerZord
(B-07) is a
MegaZord Alpha
, with the properties of the BurnerRoid. It was sent to gather from the main containment tank of the Enertron, armed with the a chest-mount fire emission unit. It also came with
BugZords
. The BurnerZord managed to set fire to several streets, requiring a quick evacuation facilitated by the Buster Vehicles.
It was destroyed by CB-01 while diving through the flames the BurnerZord was emitting at the Buster Machine.
Profile
Height: 54.5 m
Weight: 1540t
Ad blocker interference detected!
Wikia is a free-to-use site that makes money from advertising. We have a modified experience for viewers using ad blockers

Wikia is not accessible if you've made further modifications. Remove the custom ad blocker rule(s) and the page will load as expected.