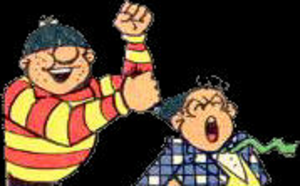 Bully Beef was a character who appeared in the UK-based comic book known as the Dandy - he appeared in a series of strips named "Bully Beef and Chips", which was a play on words as Bully Beef is a slang term for "corned beef" in Britain and Chips, of course, is the traditional name for French Fries in the UK.
History
Bully Beef was pretty much a character who stayed true to his name, being a big bully and unlikable prankster who would torment Chips frequently with violent pranks - this would lead to Chips thinking up elaborate ways to get revenge on the bully and win the day (it was common in UK comics such as the Dandy and Beano to focus on childhood feuds).
Bully Beef was a large, ugly, thug and as such was the antagonist of the comic strip with Chips being a much more intelligent boy and thus despite being weak in comparision to Bully Beef was able to beat him by using his wits.
Bully Beef has also made a few appearances in the Beano, another popular UK-based comic book, he was among a gang of villains who watched as Baby Face Finlayson attempted to drown several prominent protagonists from the fictional "world" of Beano Town (sometimes spelt as Beantown).