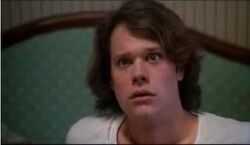 Bug was one of the main villains of the movie Uncle Buck. A teenage male, he was the boyfriend of Tia Russel. He was only interested in Tia as she was a potential outlet to satisfy his physical urges, however she kept pulling back when he suggested turning their relationship physical.
When Tia's parents rushed to Indianapolis to be with Tia's critically ill grandfather, Tia's Uncle Buck Russel came into the picture. Meeting Bug at the high school that she and Bug attended, Buck took an instant dislike to Bug. Due to his own experiences as a teenager Buck correctly sized up Bug as only wanting Tia to satisfy himself.
Tia and Buck clashed constantly while Buck was watching her and her siblings, and one night took off to go to a party to be with Bug. Bug however, by then had found another young woman to zoom in on, and unceremoniously dumped Tia for this young woman - as Buck discovered when he kicked in the bedroom door where he found Bug trying to have intercourse with the young woman. Buck took Bug prisoner in the trunk of his old beat up automobile.
Tia admitted to Buck that he was right, and the two patched up their relationship. Buck then revealed to Tia what exactly he had done with Bug, and both he and Tia forced the Bug to apologize at drill point. When he took back his apology, Buck decided it was time for a golf lesson, and managed to hit Bug with a golf ball from a considerable distance.