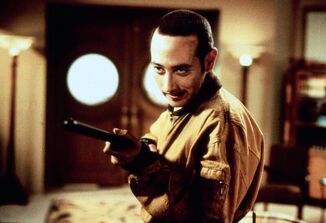 Buck LaFarge is the tertiary antagonist of the film Dunston Checks.
Plot
He wasn't seen after he got a call from Robert Grant and Mrs. Dubrow by killing Dunston with a dart. So, Dunston is saved by Kyle and Dunston saves him in turn afterwards after Kyle was held by his master Lord Rutledge. Later, he was seen at the ball where he was heard by his dog and looking for Dunston until Dunston was hanging on the chandelier and trying to kill him until Kyle save Dunston again.
After beating Lord Rutledge and Dunston beat Mrs. Dubrow, Robert eventually manages to stand up to Mrs. Dubrow, but is fired in the process.
However, it turns out that Mr. Spalding, humiliated and injured by Dunston's antics, was actually the critic all along. As a result, he immediately reduces the Majestic Hotel to a one-star hotel. Rutledge is arrested and LaFarge apologizes to Dunston who then slaps him.
Ad blocker interference detected!
Wikia is a free-to-use site that makes money from advertising. We have a modified experience for viewers using ad blockers

Wikia is not accessible if you've made further modifications. Remove the custom ad blocker rule(s) and the page will load as expected.