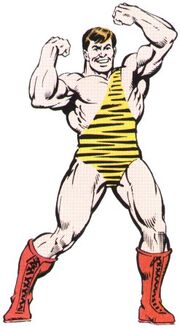 Bruce was born in Stockholm, Sweden who now is a naturalized citizen of America. As a member for the Circus of Crime, he works as a Strongman or a weight lifter.
Max Fury, the leader of the Shadow Council has assembled a new Masters of Evil in the sovereign nation of Bagalia where Strongman and the rest of the Circus of Crime are currently members. Max Fury and the Masters of Evil capture John Steele after he attempts to escape Bagalia with the Serpent Crown and the Crown of Thorns. Steele is given to the Circus of Crime where he is shackled onto a giant bullseye as part of their show. Steele was beaten and tortured in front of a large audience until he is struck in the heart by a plasma knife from the Clown. Steele knew his time was short and broke free. Steele fights his way out of the tent so Strongman and the rest of the Circus of Crime chase after him but Steele manages to elude capture with the help from the Secret Avengers.
Ad blocker interference detected!
Wikia is a free-to-use site that makes money from advertising. We have a modified experience for viewers using ad blockers

Wikia is not accessible if you've made further modifications. Remove the custom ad blocker rule(s) and the page will load as expected.