Ad blocker interference detected!
Wikia is a free-to-use site that makes money from advertising. We have a modified experience for viewers using ad blockers

Wikia is not accessible if you've made further modifications. Remove the custom ad blocker rule(s) and the page will load as expected.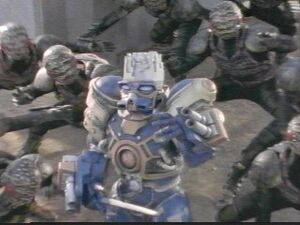 Brunt was one of Scorpius' generals who kidnapped the Galactabeasts. But he was tricked by Maya, leaving them behind and Scorpius punished him for failing him. Brunt was never seen ever again.
Brunt is a recolored hybrid of two monsters from Beetleborgs, another show Saban made that was very similar to Power Rangers. He has the head of Mean Green Cannon Machine and the de-spiked body of Rocket Man.