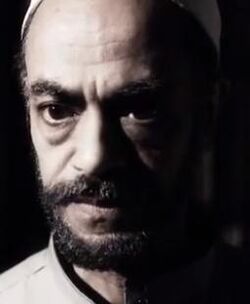 Brother Hussein was a character in the 2010 American independent film Mooz-lum (i.e. "Muslim"). He is an Imam at Tariq Mahdi's private school in a flashback of his childhood.
He was portrayed by actor Azhar Usman.
After going out to get some candy one Halloween night, Hussein beat Tariq mercilessly and did so constantly. He is known to be fired from the campus and likely was arrested at some point after Tariq left that school. Tariq was only a child at that time. Plus, Hussein abused Tariq's mother Safiyah. His mother fought back and kicked him before taking her son away from that school forever. Tariq also hit him.