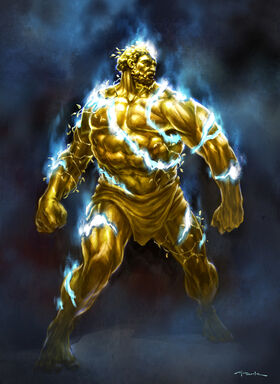 Bronze Talos
is a minor enemy in God of War 3.
Appearance
Bronze Talos are giant, living bronze statues that weilds a giant club.
God of War 3
In the game, Kratos encounters them in Poseidon's Chamber. The Bronze Talos are very similar to the Stone Talos; being both strong, but very slow. If the Bronze Talos receives any damage. it begins to heat up. The more damage he receives, the more he heats up. The more heat up Talos become the more pieces Talos' loses. After finally looses six pieces on it's body, Kratos can use the Talos' giant club and smash the Talos in pieces. Kratos also encouters several more inside the Labyrinth.
Trivia
According to Greek mythology, Talos was a massive giant made out of bronze. It's only weakness was a pin in his ankle. It was used to keep his veins shut. The sorceress Medea, with the help of Jason, they were able to remove The Bronze Talos' pin, which caused Talos to bleed to death.