Ad blocker interference detected!
Wikia is a free-to-use site that makes money from advertising. We have a modified experience for viewers using ad blockers

Wikia is not accessible if you've made further modifications. Remove the custom ad blocker rule(s) and the page will load as expected.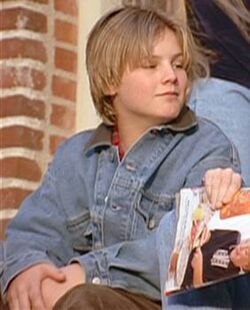 Brock Lee is the quaternary antagonist in Casper: A Spirited Beginning.
History
Brock Lee along with his friends, Leon, Danny, and Jennifer constantly bully Chris Carson, for his love of the supernatural; however, Jennifer redeemed herself in the middle of the film. They almost got him in trouble, when the prank they planted on him was on the school principal by accident and got detention. He had another detention when Chris had Casper go into stealth a placing a fire extinguisher on his back and got the principal covered in it. This lead him and his friends (excluding Jennifer) to capture Chris and have him lock up in the Applegate Mansion unaware that a bomb was planted by Bill Case. Brock and his friends eventually get their comeuppance in the end, when Chris had the Ghostly Trio scare them off by also giving them each a mega wedgie and have them hang on a tree as Brock and his friends scream in fear, pain and agony.
External links